Jason And Robbie Could Rejoin Take That For A 30th Anniversary Tour!
12 May 2017, 08:37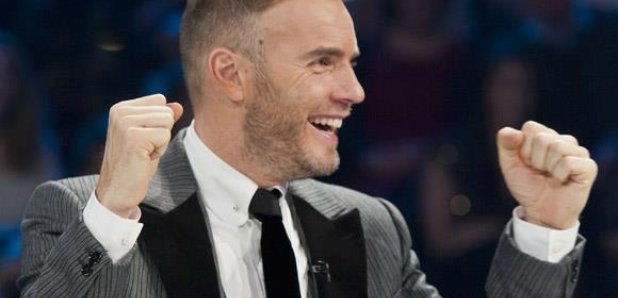 Take That have revealed some exciting plans for celebrating 30 years together - and it could involve all five of them!
It's the news all Take That fans have been waiting for...
They are planning a reunion with original bandmates, Jason Orange and Robbie Williams for their 30th anniversary!
The 'Shine' hitmakers - currently a trio comprised of Gary Barlow, Mark Owen and Howard Donald - have been plotting to get the original five members of the group back together for some shows or even an album for what seems like years!
But now Gary has said that he thinks part-timer Robbie, 43, and Jason, 46 - who quit in 2014 - could return in 2022 for a "greatest hits" tour and possibly a record.
Speaking to The Sun newspaper's Bizarre editor Dan Wootton, Gary said: "I don't think anything we do with Rob is going to relate to like a big 25-year project. In fact, I'll tell you this for the first time, we're looking at 30 years."
"We're planning something to do for the 30-year all together. We're looking that far ahead, something big, maybe a new record, maybe a greatest hits with a big tour."
Howard, 49, would love to see the five of them together , but he doubts it will ever happen.
He added: "A five-piece would be incredible. Whether that ever happens or not, that's a different story. My gut's telling me no. I'd love it to happen.
"That's the nice thing, that we can all hope it will happen but, you know, no pressure on anybody to do anything."
Meanwhile, Gary - who has a "top secret" cameo in 'Star Wars: The Last Jedi' - says he is hoping to do some more solo work in his downtime.
He said: "I do the solo thing when we have time off.
"The lads have younger family than me. When they have time off I fill it in with a few gigs. I love to do it but stepping on stage as Take That is the best thing ever."
Take That are currently on their 'Wonderland Tour' in support of their album of the same name, which kicked off in Birmingham on May 5.
The group are renowned for their fantastic live shows, which in the past have included holograms, mechanical elephants, walls of water, circus performers and aerialists and a 70-foot man called Om who joined them on their 'The Progress Tour'.
We would love to see the five of them back for good!