Take That Have Recruited Two New Replacements For Jason And Robbie!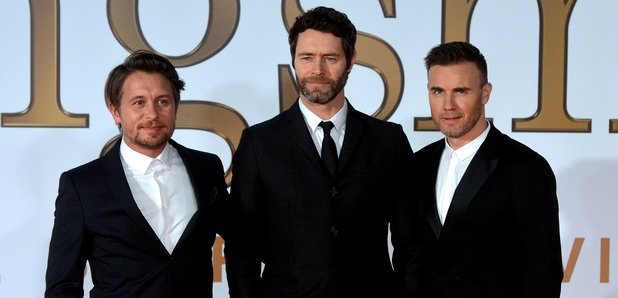 Take That will become a five piece again thanks to these two!
Take That have a special surprise lined up for this week's episode of Ant and Dec's Saturday Night Takeaway.
The band, who are now a trio made of Gary Barlow, Howard Donald and Mark Owen, have two secret weapons up their sleeve for Saturday night's performance to make them a five again.
Who could be up to the task of joining Take That AND it actually being amazing?
Well there are only two options really - Ant and Dec!
We know that the pair have dominated the charts in the past thanks to their PJ and Duncan act, but have they got what it takes to be part of Take That?
Dec said "They have lost two members over the years so they might get two new ones this Saturday night. We have been rehearsing our dance steps for Pray".
And added " The dance steps are very tough on the knees I will tell yo that. We need knee pads."
After their big performance with the Geordie duo on Saturday night, don't forget that Take That will be joining Stephan and Emma on Heart this Sunday morning to read out your Mother's Day messages!