Meet The Hell Raising New Family That's Set To Arrive On 'EastEnders'
11 May 2017, 11:57 | Updated: 11 May 2017, 12:45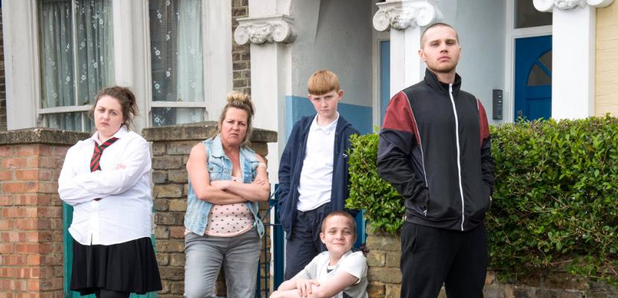 One of them has arrived straight from 'Benidorm'!
As if there hasn't been enough going on in EastEnders lately – what with Danny Dyer's impending return and, erm, Denise's seeming inability to cook pasta – a new family is set to arrive on Albert Square.
And if reports are to believed, the Taylor clan is a real group of hell-raisers!
That's perhaps not too surprising, given that one of the soon-to-arrive family formerly starred in Benidorm. Keanu, here wearing the Adidas trainers and a zip-up jacket, is played by Danny Walters, who was previously cast as Tiger in the racy comedy show Benidorm.
And what about the rest of the Taylor family? That's Karen, a single mum with five children: Bernadette, Riley, Chatham, Chantelle and the aforementioned Keanu. Oh! And there's also room for the dog Bronson and a bearded dragon named Rooney.
Talk about a full house! Luckily for Karen, Chantelle doesn't live under the same roof as the rest of the Taylor's – she lives two doors down.
IT'S OFFICIAL!!! Here is the 'real' reason why I shaved my head...https://t.co/jHjtx1oBCS pic.twitter.com/W98NSg8URZ

— Danny Walters (@DannyWalters_) May 10, 2017
Danny Walters has said of his impending role: "Having only been filming EastEnders for a few weeks, I feel so privileged to already feel a part of the team. Everyone has been so friendly and kind and gone above and beyond to make us feel welcome and supported."
He added: "There has been a huge buzz surrounding the new family and I am so excited to see what the future holds for The Taylors. Keanu is very grateful to live at Number 3 Albert Square and will try his very best not to disturb the peace in the Square."
If you think you recognise Karen, that's because actor Lorraine Stanley appeared in the 2004 'Enders spin-off Pat and Mo.
She has said: : "I'm chuffed to be cast in such an iconic show that I've grown up watching. Working with my new family is really quite special, and I'm proud to play their mum."
We can't to see what the Taylors have in store!