This Theory Behind Taylor Swift And Tom Hiddleston's Relationship Might Just Be Real...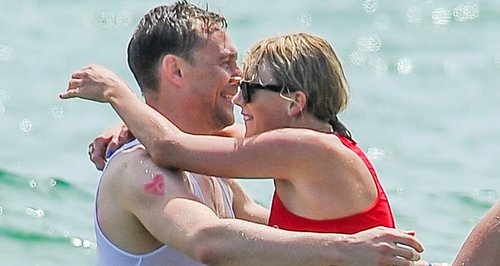 Could they be shooting an elaborate music video?
Is it just us or is the romance between Tom Hiddleston and Taylor Swift almost too good to be true? Well, this fan theory would suggest it is.
Fans have been going crazy over the idea that the Swiddleston/Hiddleswift romance might be putting on the public displays of affection because they are actually shooting one of the most elaborate music videos ever.
They've been papped holding hands, kissing, out on romantic beach walks, romping in the sea and even meeting parents, but what if it's all part of a bigger game they're playing?
It was when Tom was snapped wearing an 'I heart TS' t-shirt and a fake Taylor Swift tattoo that got fans seriously questioning the authenticity of the relationship.
First of all, it's the EXACT same photo agency that happen to snap all of the couple's cliche moments. Second of all, it's about the time when Taylor is due to release new music (she releases a new album every two years. It's been two years since her 1989 album). Thirdly, Tom Hiddleston is rumoured to be in the running for the next James Bond film so the relationship is doing great things for his PR. Convenient?
Some fans reckon it could be a video comment on fame and the amount of privacy given to celebrities and about how Taylor can't seem to have a relationship without being scrutinised by the media.
And just say that this was true, do we reckon Calvin Harris is in on it too? Who knows.
Hmm... What do you think?
Taylor And Tom Dance The Night Away At Her BFFs Concert
22nd June 2016
She's famously joined at the hip to her best friend Selena Gomez, so it was no surprise really when Tay Tay invited her new beau along for a bit of a boogie.
The 35-year-old British hunk, who's recently been spotted posing in his pants for 'W Magazine', was only to happy to oblige and now a clip of the pair of them breaking out some serious moves with friends in Nashville is going viral!
Taylor with Abigail, Matt and Tom at Selena's concert in Nashville just now. #RevivalTourNashville pic.twitter.com/4q2m21394a

— Taylor Swift Updates (@TSwiftPR) June 22, 2016
Fans Call For Taylor Swift To Sing The Next James Bond Theme After THAT Tom Hiddleston Kiss:
Understandably, the surprising news of Taylor Swift and Tom Hiddleston's romance sent the internet into a frenzy but now fans are calling for Taylor to be the woman behind the new Bond theme tune.
When the Bond hopeful was pictured kissing the 26-year-old 'Shake It Off' singer whilst out on a romantic stroll, he set the rumour mill alight with more Bond-themed gossip.
Ok, if tom Hiddleston plays James Bond, does that mean Taylor Swift will do the next James Bond song?!

— Marc Malkin (@marcmalkin) June 16, 2016
Plus, if Tom Hiddleston is cast as James Bond, y'all know Taylor Swift's going to, at the very least, sing the next Bond song.

— Lisa Marie Bowman (@LisaMarieBowman) June 16, 2016
Imagining the ballad Taylor Swift will write when she and Tom Hiddleston eventually break up. Let's make it the next James Bond theme song!

— JASON (metalmeatwad) (@MichaelNotCera) June 16, 2016
What's the story? Well, love is in the air:
She may have only split from Calvin Harris TWO WEEKS ago but Taylor Swift appears to be shaking off her split from the DJ as she was spotted having a snog with Tom Hiddleston.
The sensational news broke last night as streamy pictures of Tay Tay and Hiddleston - probably better known as Marvel villain Loki to most of us - surfaced showing the pair in a loving embrace as they walked the beaches of Rhode Island in the U.S.
EXCLUSIVE: Photos that show Taylor Swift and Tom Hiddleston's romance, only in The Sun https://t.co/RaDkW5jrIk pic.twitter.com/72LKiRoIlp

— The Sun (@TheSun) June 16, 2016
"They were all over each other – hugging and kissing – even though there were 20 people coming and going on the beach," an onlooker told The Sun newspaper of Taylor and Tom's loved up display on Tuesday afternoon.
"They looked like any young couple madly in love without a care in the world."
It's thought the pair had an instant spark after dancing together at the MET Gala in May, however Taylor was still dating Calvin at the time.
Now that she's a free agent, Tom - who is hotly tipped to take over from Daniel Craig as the next James Bond - has reportedly been pulling out all the stops in a bid to woo the pop star.
A close source to the couple revealed: "Tom has been courting Taylor since they met – he sent her flowers. She's been won over."
@LouislsAnAngel apparently Calvin didn't want marriage and Tom and her had "chemistry". Look: https://t.co/wFeWFqMmQC

— Deanna C. (@ohmycowoneblog) June 16, 2016
The snaps, which were taken on the rocky stretch of Misquamicut beach by her £12m mansion in Watch Hill, Rhode Island, sees Tom being the perfect gentleman as he takes off his jacket and puts it around chilly Taylor's shoulders.
The 'Night Manager' star is then seen helping Taylor up the rocks, before leaning in for a passionate kiss as they documented the evening with a string of selfies.
There's no word yet as to whether this steamy new romance could be the reason behind Taylor and Calvin's shocking split, but earlier reports suggested the 'Bad Blood' hitmaker called time on their romance after realizing the chart-topping DJ would not commit to marriage and kids.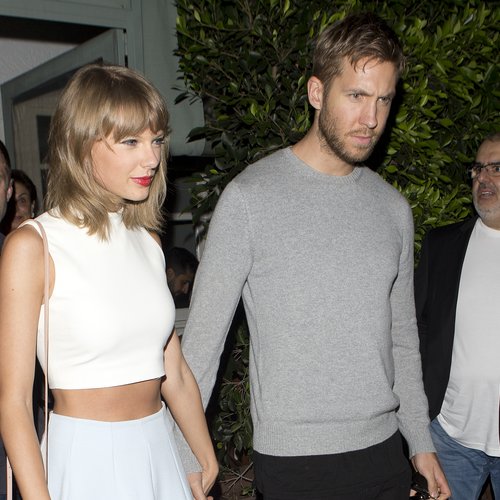 Obviously the timing doesn't look great for Tay Tay, who was reported to be nursing her ex-boyfriend back to health after he was involved in a terrible car crash just some weeks ago.
A source speculates: "Her people are insistent that no one else was involved in the split with Calvin, which is most likely the case.
"But it feels pretty disrespectful to be moving on to someone so public so quickly."
WOW... we have to hand it to Taylor, what better way to bounce back from a split than by bagging yourself one of Hollywood's most eligible bachelors?
Update:
Calvin Harris and Taylor Swift have cleaned out their social media accounts of all photos of each other after she was pictured kissing British actor Tom Hiddleston.
The Scottish DJ has deleted all photos of the pair together and unfollowed his ex on Twitter after the pictures emerged just two weeks after Harris and Swift called their 15 month relationship quits.
OUCH.