Beady Eyed "The Chase" Viewers Spot A MAJOR On-Screen Blunder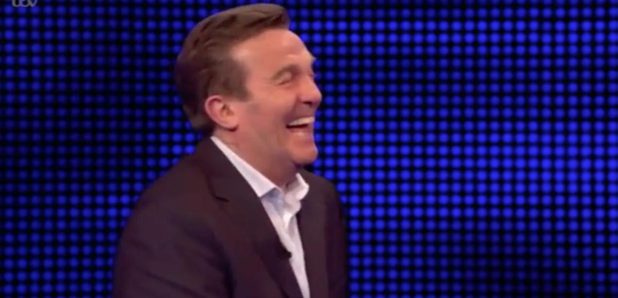 "The Chase" viewers were left confused after a gaffe appeared on-screen and they were swift to point it out.
Viewers were loving this production glitch on The Chase. The world of telly is not always what it seems. Sometimes we get a peek behind the velvet curtain and see something we weren't meant to.
That's exactly what happened on The Chase last night – either that, or host Bradley Walsh is a talented magician on the side. To be fair, we wouldn't put it past him.
Contestants Ray, Simon and Claire were chuffed to bits to have won a £16,000 cash prize to share between them, but as the camera pulled back to take a look at their happy faces, something weird happened.
Read More: The Chase host Bradley Walsh was left in hysterics after asking this rude question
If you blinked, you might have missed it. If you caught it, you might not have believed your eyes.
According to the name plates in front of them, they had – briefly, before producers spotted the gaffe – become "Dan, Cecilia and Tashi". It was an error that was soon rectified, but helpful viewers kindly snapped the error on their phones to share with the world.
Watching #TheChase on +1 and I think someone in the graphics department was having an off day. Who are these people?pic.twitter.com/JGfqOBaX19

— Sarah Kutschera (@NotSoWittyUN) February 22, 2017
Who knows – perhaps Ray, Simon and Claire all clubbed together and bought new identities with the prize money…?
Errr what??!! #TheChase they were Ray, Simon and Claire a minute ago! pic.twitter.com/Xcp2ECeYCl

— Bear Rowlandez (@BearRowls) February 22, 2017
Read more: People are asking why Bradley Walsh was at the BRITs!

Bradley Walsh has certainly been having a brilliant week, as he was also spotted hanging out at the Brits Awards. Good on you, Bradley.