Someone Has Photoshopped The Queen Onto Rihanna's Outfits And It's Hilarious
24 April 2017, 14:32 | Updated: 12 July 2018, 13:59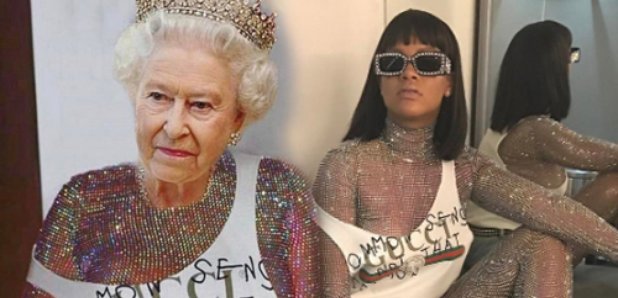 Hilarious new images made in honour of the Queen's 91st birthday have gone viral, but not everyone is impressed.
Rihanna has sparked massive backlash after her bizarre tribute to Queen Elizabeth II over the weekend raised a few eyebrows.
The "We Found Love" singer took to Instagram to pay homage to the British monarch in honour of her 91st birthday over the weekend, with some hilarious images of the Queen donning her most risque outfits.
Read more:
One of the many images showed the Queen superimposed onto Rihanna's lengthy pins, whilst donning the singer's iconic suit and knee high boots, while another appeared to show the royal rocking the star's red fur cape with a pair of denim shorts and stilettos.
The images swiftly went viral, with many taking to Twitter to express their amusement.
While most found the photoshopped images hilarious, understandably, there were some who believed the images were a little disrespectful and took to the comments section on the singer's page to vent their fury.
One user wrote: "'Doesn't mean you can do whatever you wish to one of the most respected women in the world- Queen Elizabeth. Money can't make you Royalty... Being rude is cool or funny for Idiots... I am not understanding why you are posting these weird pics Riri???... This is now bordering on disrespectful. You're better than this."
Ouch!
Do you think it was disrespectful? Or just a cheeky bit of fun?
Vote in the poll and let us know!