The Undateables Fans Are Furious After Blind Man's Date CANCELS Last Minute
12 September 2017, 08:10 | Updated: 12 July 2018, 13:59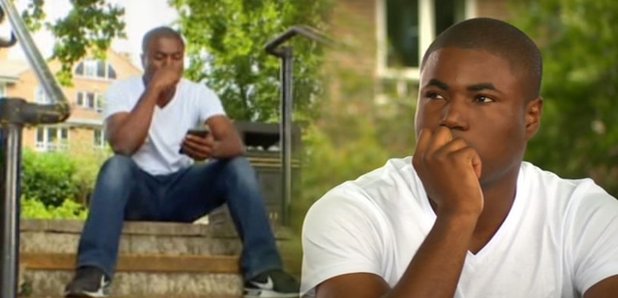 Paralympian Souleyman is partially blind and is determined to find love before he loses his sight.
Viewers of The Undateable were left in uproar last night after one of the hopefuls had their date cancelled at the very last minute.
Fans of the series, which sees people living with mental and physical disabilities on the quest to find love, were left gobsmacked when Souleyman was stood up by his date.
The athlete, who has a degenerative eye condition, is slowly losing his sight and is determined to find love before he goes fully blind.
The wisdom of Souleyman. #undateables. pic.twitter.com/hEyAwgc7KF

— Channel 4 (@Channel4) September 11, 2017
Viewers heart's melted as they watched his joy after being set up on a date with a girl named Christine by the specialist dating agency.
Excited at the prospect of meeting 'the one', Souleyman leans on his friend to look up her profile in a bid to find out more about his date before going on a shopping trip to pick out clothes.
However, Souleyman was left hanging when his date cancelled at the last minute, saying that she couldn't commit because of personal reasons.
Fans of the show were NOT happy and swiftly took to Twitter to voice their fury.
Souleyman let me date you #Undateables

— Alex Khan (@AlexKhann) September 11, 2017
Don't worry souleyman by the looks of her pic she was a catfish #TheUndateables

— Teza (@tezajts) September 11, 2017
SOULEYMAN YOU'RE TOO GOOD FOR HER ANYWAY BOO #Undateables

— B-RON (@BryonySmurphy) September 11, 2017
While others were confused...
Oh no Souleyman! What happened? I only went to the toilet and came back!! #TheUndateables

— Kathryn Williams (@KathW80) September 11, 2017
Thankfully, Souleyman was given a second chance when he was set up on a blind date with student Gina, and they really hit it off, which of course melted the hearts of viewers everywhere.
Souleyman on #Undateables is literally breaking my heart he's so cute and kind

— Bee. (@Simmy_Bee) September 11, 2017
Awwww I really hope it works out for Souleyman on #TheUndateables he's so lovely!

— Tracy Haggie (@Russellsbitch) September 11, 2017
I hope Gina and Souleyman get together, they make such a cute couple #Undateables

— Matt (@_MVTTP20) September 11, 2017