There Is A Kate Middleton Choir And Yes It's As Bonkers As It Sounds
2 November 2017, 12:02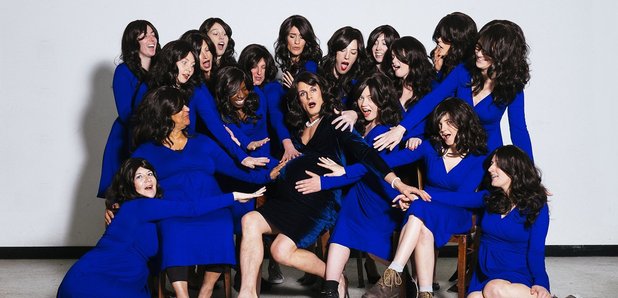 You just couldn't make this up, but yes, a Kate Middleton choir totally exists.
Who doesn't love a good choir.
We were all in one at school, we all love listening to them at Christmas time and thanks to Glee and Pitch Perfect choirs are cool now!
But this East London based choir have cranked all things choral up a level and are known as the Kate Middleton Choir. Why? Because they ALL dress exactly like the Duchess of Cambridge...
The unconventional group is the brainchild of actor and drag artist Jonny Woo who also heads up a cabaret night called the Un-Royal Variety at iconic venue, the Hackney Empire.
It would seem that a Kate Middleton themed choir would be the perfect act for an event that turns Royal tradition on it's head and that's exactly where they will be performing this weekend.
The entire choir all wear brunette wigs, blue wrap dresses and in a sneak peek on the Un-Royal Variety Instagram we can see that in honour of Kate's pregnant status the whole choir will also be sporting baby bumps!
Jonny told Cosmopolitan: "I put the Kate Middleton choir together as a joyful critique of Kate as a role model for women"
"The choir is all about bringing contemporary women's voices together and singing songs that comment on our relationship with the monarchy today."
So what do the Kate Middleton Choir sing at performances? Well this weekend's show will include 'Love Of The Common People' by Paul Young and 'All That She Wants Is Another Baby' by Ace of Bass.
Very clever!
Remind yourself what the real Kate looks like...