This Footage Of Amber Singing Before Love Island Fame Has Blown Us Away!
28 July 2017, 11:18 | Updated: 13 April 2018, 15:59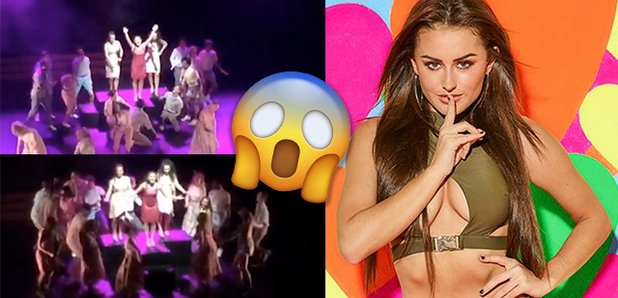 This video of Amber performing on stage before she entered the villa reveals her incredible singing voice!
It's hard to imagine the Love Island stars having a life before the villa as we are so used to seeing them on our screens lounging around the pool all day.
We know that 21-year-old winner Kem Cetinay was a barber before his stint on the island, but what about his 20-year-old girlfriend and fellow winner Amber Davies?
On her final date with Kem on the show she revealed that her dream was to perform on the West End and after seeing this footage we think she DEFINITELY has what it takes to make it in the glamorous world of musical theatre.
In the footage filmed by her sister Jade, the Welsh beauty can be seen in a red dress singing her lungs out and her voice has blown us away.
The footage is from her end of year show at stage school Urdang in North London which she attended for three years to train as a dancer and the clip sees her singing the song Steal Your Rock And Roll from the musical Memphis.
When the show was in the west end the character was played by none other than Beverly Knight but we think Amber could even give her a run for her money!
Here is an incredible performance by Beverly and her co star Killian Donnelly of the same song on ITVs Live At The Palladium from 2014.
Amber may be tiny but she has a big voice that's for sure, we are so impressed and hope she achieves her dream of performing on London's West End.