WATCH: 'This Morning' Fans Love This Adorable Boy Who Enjoys Wearing Makeup
10 May 2017, 16:36 | Updated: 11 May 2017, 09:31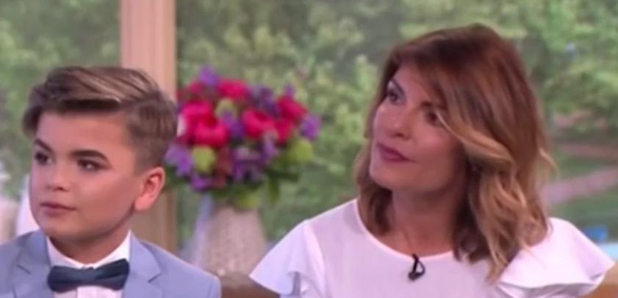 Holly was clearly enamoured with 12-year-old Rueben De Maid.
Telly fans found themselves cooing at the screen during today's episode of This Morning, as one adorable little boy discussed his love of make-up.
The unselfconscious youngster told Holly: "I love putting on make-up… I do make-up for the art, I don't do it to cover up my skin." What a fantastic attitude!
12-year-old Reuben de Maid, from Llandaff, Wales, is something of a star-in-the-making, as he has appeared on Ellen and the American children's talent show Little Big Shots (which now has a UK counterpart hosted by the inimitable Dawn French). On both occasions he showed off his talent by singing beautifully, drawing comparisons to glam pop star Adam Lambert.
Concerned Holly Willoughby explained that "people will say, 'Is it because of insecurity, are you hiding, is it a mask you're putting on?" Ruben replied: "It's more art. I love putting it on. I love art in school, I love studying art."
He added: "And make-up is art." A young David Bowie couldn't have put it better himself!
This lad does make up better than me! I need some tips from a pro #thismorning #bekind

— Emma Beatty (@EmmaLBeatty) May 9, 2017
The cheeky chappie admitted that although he's not supposed to wear make-up at school, due to the code of conduct enforced by his teachers, he manages to find a sneaky way to indulge his passion. Ruben's a rock'n'roll rebel after all.
Yet this devil-may-care attitude hasn't made life easy for the brave youngster, as his unique appearance has attracted the unwanted attention of bullies. He said on Ellen earlier this month: Before I used to get bullied a lot, I had friends but not a lot and in my drama group I used to get hit, punched and kicked."
#ThisMorning crack on son you seem a good guy too me. fight the power.

— Wayne Broomhead (@Dingybatt) May 9, 2017
The thousands of fans who watch Rueben's YouTube videos, though, think he's nothing less than a hero. In one clip, he belts out Rihanna's 'Love On The Brain', a performance that has been enjoyed by more than 34,000 viewers.
Keep up the good work, Rueben!