Tim Peake Reveals Tricky Astronaut Brain Teaser - Can YOU Work It Out?
25 October 2017, 10:59 | Updated: 25 October 2017, 11:09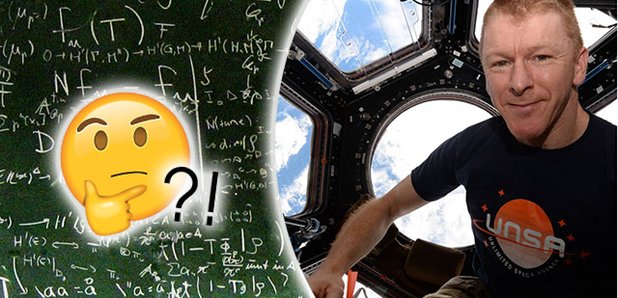 This is guaranteed to wake your brain up!
Astronaut Tim Peake inspired adults and kids alike when he was launched to the International Space Station (ISS) and spent 6 months in orbit from December 2015 through to June 2016.
His journey was so well documented that he even sent us lowly earthlings a New Years message for 2016, which was televised from the Space Station. AND he also remembered to wish the Queen a happy birthday in June!
The ISS operates on GMT, just like us, so he celebrated New Years at exactly the same time - albeit from somewhere undeniably cooler than us - we just be sitting in the lounge in front of the tv with a vino in hand...
Naturally, he gained a huge fan base, and left us all thinking "we want to do that!"
Until his post on social media stopped us dreaming in our tracks.
WATCH: The Spellbinding Trailer For Planet Earth 2:

Tim shared a typical brain-teaser question that he had to face during his intense application process, when he was one of nearly 9000 hopefuls. It involves a cube, a dot, and some directions. Sound simple? Well, it's not - and, according to Tim, this is one of the EASIER ones:
Many fans of the astronaut gave it a good go - but there was a huge conflict of answers:
On the top?

— Polly (@paulinemulvaney) October 21, 2017
It's going to be on the right side

— Slaoui Nawal (@SlaouiNawal) October 21, 2017
Bottom

— Duffster69 (@kevduff69) October 21, 2017
Some just decided to put down the first thing that came to their head (flashback to school exams):
26

— Beccie Hyde (@BeccieHyde) October 21, 2017
Confused? So are we.
Thankfully, Tim didn't leave us dissolving into a stressed mess for too long, and posted the answer to put us all out of our misery:
.I loved reading all your answers and congratulations to all those who said it ended up back on the bottom of the cube!

— Tim Peake (@astro_timpeake) October 21, 2017
The BOTTOM. Of course...!
Tim Peak is only the SEVENTH UK-born person in space. After spending 18 years in the Army, Peake saw an application for new astronauts online and was amongst one of nearly 9000 to apply. He has previously expressed the difficulty of the examination process, and how after months and months of tests he was selected to then go ahead with a crazily intense 14 month training programme in Germany.
We are in awe of you, Tim!