Tom Cruise Is Breaking The Internet With Valkyrie Bum Scene
26 August 2017, 11:58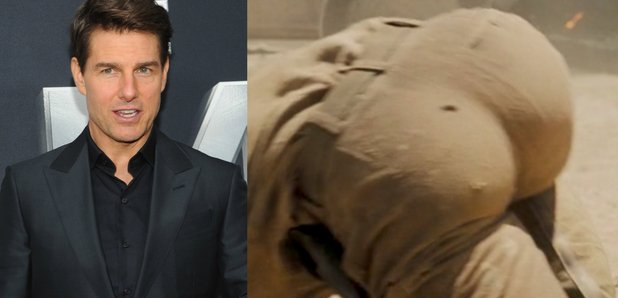 Bottoms Up!
It's fair to say that Tom Cruise is no stranger to a gym after starring in almost EVERY action movie there is, but has the 55-year-old actor been honing in on the squats or adding a little extra padding for his close-up - Twitter seems to think so.
As Twitter user @iluvbutts247 pointed out in a butt-raising scene in 2008's Valkyrie, Tom pert behind may not be all his own.
hello, please, i present the theory that for one single shot in Valkyrie (2008), at 5:12, tom cruise wears a fake butt. observe: pic.twitter.com/Tw6yTbsQUe

— swizz keats (@iluvbutts247) August 20, 2017
With over 15,000 retweets Tom's bum broke the internet, and Twitter users were quick to compare the action star's butt to Kim Kardashian's!
While some had serious theories behind the mysteriously large bum...
is it a stunt scene? stunt actors wear fake butts for padding (wldt put it past Cruise all the time but this one looks hilariously outsized)

— Anthony Oliveira (@meakoopa) August 20, 2017
could be CGI

— jamison (@jhermann) August 21, 2017
...others were quick to find the butt-of-the-joke in all of this.
August 21, 2017
Tina knew this the whole time. pic.twitter.com/6nyRucw28v

— SisteRNurseJoy (@GustinCaleb) August 21, 2017
That is Tom Cruise's stunt bubble

— JMoring (@beingJMoring) August 21, 2017
That can't be real. Lol

— Dead Mem (@basicsnowflake) August 22, 2017
My anaconda don't want non unless you got Tom's bun

— Coconut Cat (@cocoleaf2000) August 22, 2017
But(t) it seems Tom's bum is the only body part of his that fan's have been obsessing over lately. The Mission Impossible star recently hurt his ankle after falling during a stunt performance on the set of M.I 6.
In the film Valkyrie, Tom Cruise plays a German army Colonel named Claus von Stauffenberg, who along with a team of like-minded men try and overthrow a Nazi regime from the inside out.