Tom Daley Asked Fans To Redesign THIS Picture...But It Went Horribly Wrong.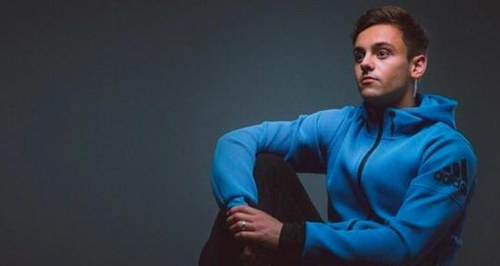 Give some people and inch an they'll run a mile... Well at least that's what happened to Tom Daley when he asked fans to "personalise" his cover art. Unfortunately, the results wasn't what he was expecting...
Tom Daley was trending for all the wrong reasons this week after the internet made a mockery of the #CoverDaley hashtag.
The Olympic diver asked his 2.5m Twitter followers to "personalise" his latest Adidas campaign to be in with a chance of winning the competition.
Hi everyone! I would like your help designing my cover photo. Who's up for it? #COVERDALEY

— Tom Daley (@TomDaley1994) April 1, 2016
All you needs to do is take the image below and personalise it in your own way!Winner decided on the 6th #COVERDALEY pic.twitter.com/lqZy57tZvj

— Tom Daley (@TomDaley1994) April 1, 2016
What could possibly go wrong eh?
Obviously it didn't take long for the internet to spot the comedic potential, and before you know it Twitter exploded with photoshopped memes quicker than you can say "VIRAL."
Pictures of Tom sitting on the loo, hugging a topless Vladimir Putin, and enjoying a tinny outside a local Greggs bakery were just some of the more hilarious spoofs that had us crying into our cuppa tea!
Take a look!
Relaxing like a true Wakey lad!#COVERDALEY @TomDaley1994 pic.twitter.com/k3zOjcUoXK
— Visit Wakefield (@Visit_Wakefield) April 2, 2016
@TomDaley1994 here you are, Tom. #coverdaley pic.twitter.com/NsNfAk3wOO

— Richard Rippon (@cheekyricardo) April 2, 2016
I hope I win. It took me at least 3 minutes to make this. #COVERDALEY pic.twitter.com/pvJajMXGaP

— Gavin (@GavinWorby) April 1, 2016
Tom Daley asked the internet to Photoshop him. Got more than he bargained for (#COVERDALEY) https://t.co/R1aSNihOYe pic.twitter.com/JWaoCTV9rH

— ShortList Magazine (@ShortList) April 4, 2016
One fan even offered Tom a stark warning by alluding to the potential PR disaster that was about to ensue.
@TomDaley1994 #COVERDALEY pic.twitter.com/duoe4Djfyx

— Scott Bryan (@scottygb) April 1, 2016
Next time Tom, how about you leave the designing to the professionals?