Giovanna Fletcher's Heartfelt Tribute For Tom Fletcher's Birthday Will Make You Believe In Love Again!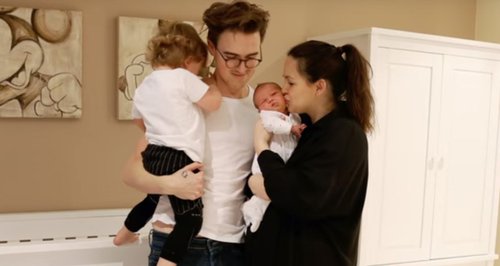 Just when we thought they couldn't get any cuter...Giovanna posts THIS.
Its safe to say when it comes to Giovanna and Tom Fletcher they are the ultimate relationship goals.
Now mother-of-two Giovanna let the world know exactly how much she appreciates her hubby Tom when she tok to Instagram to share a touching post to celebrate the McFly star's 31st birthday.
Read more: Giovanna Fletcher Reveals The Quirky Dating Game Keeping Their Marriage Exciting
Read more: Giovanna Fletcher Reveals Why She's Talking A Leaf Out Of Kim Kardashian's Book
Posting a picture of her laughing hubby, she wrote: "Today is this one's birthday. I can't tell you how wonderful it makes me feel to see him smile and laugh and then to watch him spread that joy into our boys."
"Happy 31st birthday @tomfletcher – the biggest dreamer and achiever I know! Love you!! Xxxx"
Author Giovanna, known to most as Gi, previously surprised Tom with a belated 30th birthday party at the beginning of this month after he was too ill to celebrate the landmark occasion last year.
Gathering together some of their closest family, Giovanna decorated the room with candy canes and placed cutlery in Christmas stockings to continue the festive theme.
How cute?