WATCH! Tom Fletcher Makes BIG Announcement 'LIVE' From The Delivery Room.
Live from the Delivery Room
04:01
It's Christmas come early for Tom Fletcher as he announces his brand new children's book LIVE from the delivery room, and Giovanna isn't happy!
Waiting for the arrival of your newborn after your wife has gone into labour can be a long process, but something tells us Giovanna, 31, wasn't best pleased when Tom Fletcher, 30, decided to use the opportunity to announce his new book.
The McBusted star, who welcomed his second child with wife Giovanna in February, made a hilarious all-singing, all-dancing production to promote his new book 'The Christmasaurus' - much to the annoyance of his wife.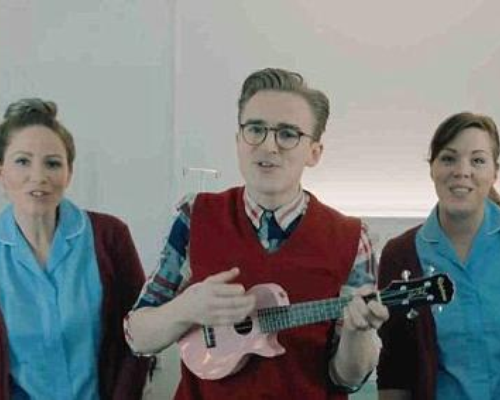 The hilarious video, titled Live From the Delivery Room, sees Tom unable to attend his book launch which forces him to break his exciting news live via Skype.
The cheeky frontman tells the room: "I'm so sorry I can't be there, my wife has gone into labour and is about to give birth to our baby!"
He asks his wife to give the camera a wave and she reluctantly gives a thumbs up, as Tom tells her: "You're doing such a good job!"
Comedy ensues when Tom tells his wife to quieten her whimpers, which is obviously greeted with some MAJOR side-eye from a disgruntled Giovanna.
Tom continues to sing: "It's story about a boy called William Trundle and a dinosaur the Christmasaurus, and how they meet one Christmas Eve and have a magical adventure. It's about families and friendships, Santa and sleigh-bells, singing elves and flying reindeer, music and magic, and it's about finding your heart's true desire."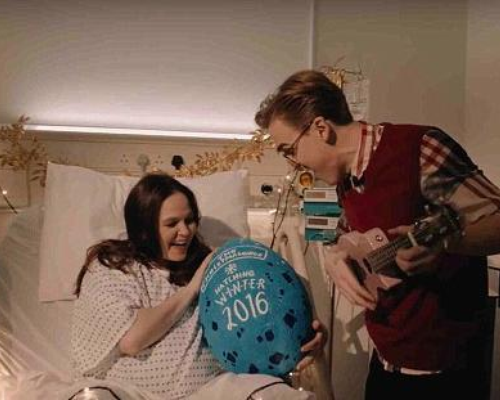 It doesn't stop there, as there are cameos from a children's choir and Santa himself in the festive production.
The video comes after Giovanna gave birth to the couple's second son, Buddy, on February 16 and they annouced the good news with a homemade video at the end of January.
Just when we thought the Fletcher's couldn't get any CUTER!