Tom Fletcher Reveals Son Buzz Has Reached A BIG Milestone!
4 October 2017, 16:52 | Updated: 5 October 2017, 11:44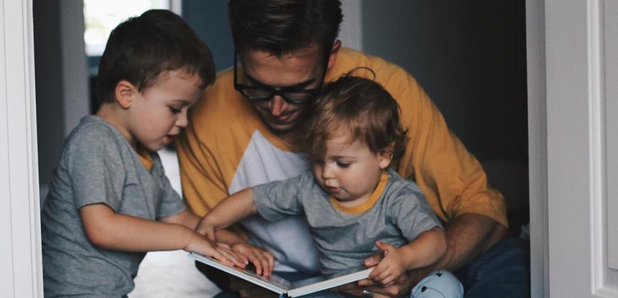 Tom's clearly passing his love of books onto eldest son Buzz.
McFly star Tom Fletcher has always had a talent with the English language and played a key part in the success of the band with his writing abilities. He's also helped write for various other pop bands including One Direction, The Vamps and close friends Busted.
Since becoming a father, the self-confessed book-lover turned his hand to writing children's books, and it seems he's quite the natural as he's now been announced as one of the authors for World Book Day 2018 with his own book Brain Freeze.
Now it seems that Tom's love of reading is already rubbing off on his three-year-old son Buzz, who he reads to every night.
Tom proudly revealed to Heart Online: "He [Buzz] is doing pretty good, he's starting to recognise words now...we'll be reading a book and he'll ask me where that word is - he'll want to know which one of the words that is and when it comes up again he'll pick it out and spot it...it's amazing seeing him engaging in words."
The singer, who along with Buzz also has 18-month-old son Buddy, admits that when it comes to bringing the book characters to life for his children there is some serious rivalry with his wife Giovanna.
"Theres a bit of a competition between me and my wife trying to outdo each other - we take it in turns as we have two boys, we alternate and I can hear whats going on in the other room and hear her trying to outdo me with the voices - you've got to bring your 'A' game to the bedtime stories."
We would LOVE to be a fly on the wall during story time in the Fletcher household!
Speaking on the importance of reading with your children, Tom explained: "You can't beat that connection that you have with a book...It's so important to encourage your kids to read - and also depending on the age of your kid it's an amazing bonding experience."
Tom is amongst the likes of presenter Clare Balding, comedian Julian Clarey and winner of GBBO 2015 Nadiya Hussain, who will be penning new works to celebrate World Book Day 2018.
The big event is happening on March 1st next year, so there's plenty of time to start taking requests from the kids and crafting the perfect costume for the school fancy dress day!
WATCH: Giovanna Fletcher Answers Your Questions: