Pregnant Giovanna Fletcher has the perfect response to troll who called her 'a mess'
27 March 2018, 12:59 | Updated: 19 October 2018, 20:17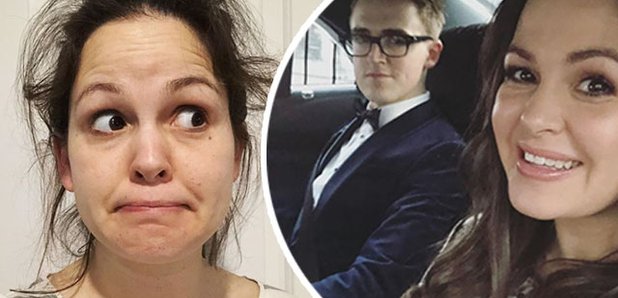 McFly star Tom Fletcher's wife has responded to cyber bullies who criticised her for being "a mess".
Giovanna Fletcher has posted a brutally honest message on Instagram, after being branded "a mess" by online trolls.
Taking to Instagram, the pregnant vlogger captioned a no-makeup image of herself saying: "An online stranger commented on my appearance the other night.
"Talking about me being 'a bit of a mess'... having just spent the day entertaining the boys, after a weekend of doing the same, I just looked in the mirror and thought, 'Fair point!'.
She went on to say: "See, the thing is, I really don't have the time (or desire) to pile on the make up when I'm in my own home."
"In fact, I don't even look at my make up bag. Neither do I manage to do more than gather my hair and tie it up on top of my head.
The mum of two explained that her boys are her main priority, adding: "My clothes are baggy and ones I can run and play in... In the mornings I go for speed, ease and comfort because I have other things to factor into my morning routine.
"Like getting the boys fed and dressed, and dealing with the morning toothbrushing wrestle."
She ended the post saying: "The most important thing to note though, is that this is my face. The actual face I was born with.
"And I've NOT ONCE heard the boys complain that mummy isn't better put together."
A number of fans flooded the pic with comments of support, with the likes of Rochelle Humes writing: "I love your face. It's BEYOND!!!!! You are my friend a superwoman."
Giovanna finished the post saying: "I am, in absolutely no doubt, that they [her boys] love me in whatever state I happen to be in. I think their opinion carries far more weight."
PREACH. Good on you Giovanna!
Watch more: