Almost Too Perfect: Sickly Sweet Swiddleston Get Very PDA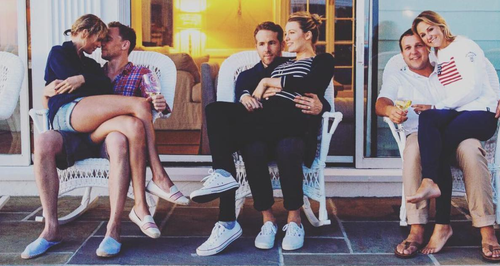 Ryan Reynolds' face is how we feel...
After some brief social media downtime, Taylor Swift is back and she's been using the platform to show off her epic Fourth July celebrations with her famous BFFs and her new beau Tom Hiddleston.
She partied in style with her 'squad' in her mansion in Rhode Island. And in one the photos, Taylor is sitting on Tom's lap on a porch with two other couples, Ryan Reynolds and his pregnant wife Blake Lively and Taylor's oldest friend Brittany Mack and her husband Benjamin LaManna.
But it's Ryan Reynolds' face that has captured the internet. Fans are suggesting that poor Ryan looks so awkward as his wife's friend canoodles on the porch with Tom.
Ryan Reynolds face is EVERYTHING #TomHiddleston #2016IsCRAZY pic.twitter.com/cXEW6HVShl

— BeatlesFass (@BeatFassbender) July 5, 2016
I mean what's NOT normal about this?I always force my friends &partners into photos with me&my serious bf of 3 weeks pic.twitter.com/j7TGLcOjr5

— Nicola Coughlan (@nicolacoughlan) July 5, 2016
Ryan Reynolds looks like he's dying inside. https://t.co/9PWxZXTLiy

— Darcey Buttell (@DarceyButtell) July 6, 2016
Is it real?
Is it just us or is the romance between Tom Hiddleston and Taylor Swift almost too good to be true? Well, this fan theory would suggest it is.
Fans have been going crazy over the idea that the Swiddleston/Hiddleswift romance might be putting on the public displays of affection because they are actually shooting one of the most elaborate music videos ever.
They've been papped holding hands, kissing, out on romantic beach walks, romping in the sea and even meeting parents, but what if it's all part of a bigger game they're playing?
It was when Tom was snapped wearing an 'I heart TS' t-shirt and a fake Taylor Swift tattoo that got fans seriously questioning the authenticity of the relationship.
First of all, it's the EXACT same photo agency that happen to snap all of the couple's cliche moments. Second of all, it's about the time when Taylor is due to release new music (she releases a new album every two years. It's been two years since her 1989 album). Thirdly, Tom Hiddleston is rumoured to be in the running for the next James Bond film so the relationship is doing great things for his PR. Convenient?
Some fans reckon it could be a video comment on fame and the amount of privacy given to celebrities and about how Taylor can't seem to have a relationship without being scrutinised by the media.
And just say that this was true, do we reckon Calvin Harris is in on it too? Who knows.
Hmm... What do you think?