WATCH: Fans Spotted This Blunder On Last Night's Dramatic Episode Of TOWIE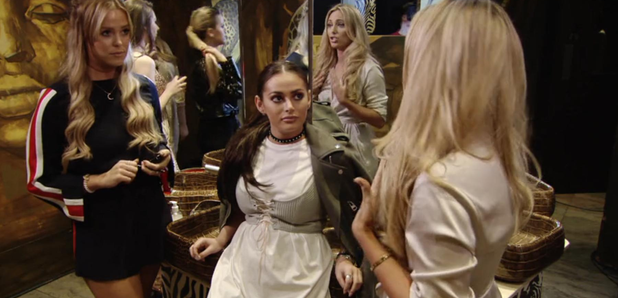 What were those extras LOOKING at for all that time?
We all love a TV blunder – and viewers have spotted a new fail on a recent episode of The Only Way Is Essex.
During last night's explosive scene, all eyes should have been on Chloe and Amber, as they argued in the night club toilets over hunks Jamie and Dan.
There were so many 'beeps' in the sweary exchange that it sounded like a lorry reversing. "Our friendship's been over for a long time," Amber told Chloe. "At the end of the day, you're part of the reason our friend group fell out."
Ouch!
READ MORE: Beady Eyed "The Chase" Viewers Spot A MAJOR On-Screen Blunder
Yet there a were a few things distracting Towie fans – of them being Gemma Collins' massive haul of shopping bags, which some viewers believed to be empty. Are they saying 'constructed reality' might not be all it seems? Pour us a strong cuppa, we might need a lie down after hearing that!
But that wasn't all. Cads on Twitter were also quick to point out the extras in the mirrors in the background. They awkwardly loitered about, doing their hair, pretending to drink their drinks, looking generally out of place.
Donna was having a right old laugh
Those extras in the toilets have been stroking their hair for the past 5 minutes#TOWIE

— Donna Marrochia (@dmarrochia_7) March 19, 2017
Jacob couldn't believe what he was seeing
Bruvvvvv these two extras in the background are taking forever in that god damn mirror!!!! #TOWIE

— Jacob Button (@DailyBlumpkin) March 19, 2017
Matt was lolling away
Those extras in the bathroom though #TOWIE

— Matt Cahill (@C_A_H_I_L_L) March 19, 2017
Hayley said it like it was
Those extras in this bathroom #towie

— H☽ (@Hayley_Killick) March 19, 2017
AJW summed it up perfectly
#towie those extras not even looking at the agg going on

— AJW (@AJW4966) March 19, 2017
We're absolutely sure it won't be the last blunder on TV – and we'll be sure keep our eyes peeled for the next one!