Holly And Philip Present This Morning HUNGOVER After Partying 'Til 5am!
Holly Struggles to Eat James Martin's Crème Brûlée | This Morning
06:12
Holly Willoughby and Philip Schofield are back to their usual tricks after a night of partying at the National Television Awards.
It was 'hair of the dog' for Philip Schofield who found himself downing a large glass of red wine on Thursday morning after a heavy night of drinking with Holly Willoughby at the National Television Awards.
The loveable presenting duo admitted to feeling a little worse for wear after celebrating winning a gong at the glitzy awards ceremony, sponsored by Echo Falls, on Wednesday night.
Phil admitted that the pair had partied until 5am following their win in the "live magazine show" category but this didn't stop the silver fox from swigging a glass of rouge live on air during a cooking segment with James Martin.
"Cheers i'll have a sip for you" Phil cheekily said to Holly, who looked baffled at how he had managed to stomach alcohol so early in the morning.
To which she replied: "What's wrong with you?!"
Their latest antics come after the presenting duo turned up to the ITV studios in their clothes from THE NIGHT BEFORE after partying at the National Television Awards last year where they picked up a gong for Best Live Magazine Show.
In the hilarious clip, Holly and Phillip desperately try and hold it together as they attempt to present the live daytime show. However, it wasn't long before the giggles settled in as they reflected on the antics from the night before.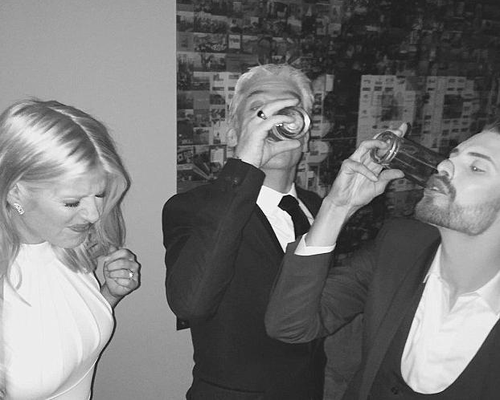 Holly and Philip were seen downing shots and guzzling glasses of champagne as they celebrated in a private suite at the event in London's O2 arena in snaps posted to their Instagram.
.
Check out some more times the biggest A-listers found themselves in stitches on live television!