Alan Carr Tells How He ACCIDENTALLY Snubbed Kanye West!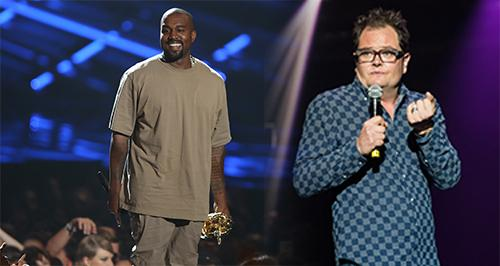 If things had gone differently, who knows, Alan Carr and Kanye West might be best friends right now! Here's the Chatty Man's snub story about why that DIDN'T happen...
It didn't take Alan Carr long to scoop a new role after it was sadly revealed that his Chatty Man show has been axed.
The 40-year-old funny man took on the role of guest editor-in-chief at celebrity gossip mag Heat this and spilled some celeb gossip of his own.
It's hard to remember a time before Chatty Man was on our screens, but who remembers The Friday Night Project? Alan's show with fellow comic Justin Lee Collins.
In a 2006 episode of the show they had none other than Kanye West as a guest who after the show invited Alan and his partner Paul Drayton to 'hang out' when they next visited LA.
However, modest Alan thought he was just joking and didn't even think of contacting the rapper when he eventually visited LA!
It was only when the pair were in the way home and received an email from Kanye saying 'Hey are you guys in LA yet?' that they realised he was being genuine!
OOPS! Alan you definitely missed out on being Kanye's bestie there...