Andi Peters Accidentally Throws Cash Prize Away During Gaffe On 'Lorraine'
21 June 2017, 13:06 | Updated: 14 July 2017, 11:11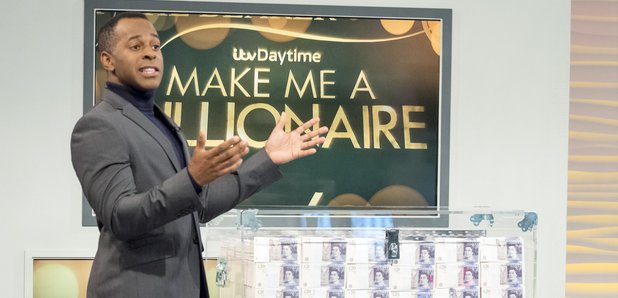 The TV presenter got a little carried away while talking up the coveted cash prize.
Andi Peters was left red-faced on Lorraine after he accidentally chucked a wad of cash over the side of the ITV building.
The former Live and Kickin' presenter had been hosting his regular competition segment on Lorraine, but things soon took a turn for the worse.
Andi had been telling viewers how they could win the life-changing sum of £250,000 making sure to tell everyone at home: "This is real money, this is cold hard cash."
Obviously getting a bit carried away, 46-year-old presenter flashed the cash in front of the screen but was soon left scrambling around trying to find it after mistakenly throwing it over his shoulder, and over the side of the building.
While Andi desperately attempted to keep his segment afloat, viewers could sense a mass panic from security guards who had been on hand to protect the prize.
Leaning over the side of the building, the security could be seen trying to locate the cash while a very nervous Andi Peters suddenly realised just how much of a mistake he made.
"Oh! Anyway," he laughed, "If you would like to win £250,000 minus one bundle then answer this question."
Viewers quickly took to social media to point out the hilarious blunder.
@andipeters bad throw and even worse attempt to catch! pic.twitter.com/2tSc0cY4Vk

— 19EightyNine (@SpecialPerson89) June 20, 2017
@andipeters low-key just threw a wad of cash off the roof live on TV I'm crying #Lorraine pic.twitter.com/jQNH2mM5IX

— ash (@Ashleyeverett21) June 20, 2017
Andi Peters accidentally throwing a wad of cash on live tv.. made better TV than the #QueensSpeech

— Omar Terywall (@Terywall) June 21, 2017
. @andipeters next time please throw some of those notes my way!!! https://t.co/peko46qAgi

— June Sarpong MBE (@junesarpong) June 21, 2017
Unlucky for Andi, but VERY lucky for the people standing below.