Watch Ant and Dec Freeze Live From The Jungle In Best Mannequin Challenge Yet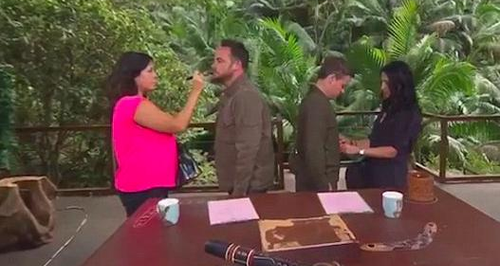 The cheeky duo are the latest stars to take part in the dance craze thats sweeping the internet.
Ant and Dec have become the latest stars to get swept up in the internet's latest dance craze, as they took on the mannequin challenge from inside the jungle.
The 'I'm a Celebrity...Get Me Out of Here!' hosts are seen stood frozen in a video uploaded by Extra Camp presenter Vicky Pattinson to Instagram on Saturday.
At first, Ant and Dec are seen strolling through the tree-top set of the show as Ant concentrates on his phone.
"What are you watching?" Dec asks.
"Those mannequin challenges," Ant replies. "We should really do one..."
At that very moment, Ant walks off camera and Dec stands frozen before the camera pans to show the entire crew are also standing still like mannequins.
Ant is seen in a phone box with Vicky while her Extra Camp co-presenter Chris Ramsey is seen locking them inside as a joke.
If you looks closely you can also spot Dec, Stacey Solomon and Kiosk Keith stood in a frozen argument about which songs to play on the on-set decks.
As if that's not enough, the camera pans once more and Joe Swash is lying around on the sofa as Ant spills a drink over him which is, again, frozen mid-spillage.
This took some SERIOUS planning.