The TV BAFTAs: The Great, The Glamorous And The Controversial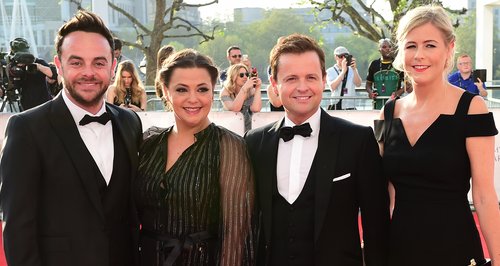 Despite the sparkle, it was an evening filled with emotional appeals from it's stars to protect the future of televison.
Stars like Best Actor winner Mark Rylance and Strictly Come Dancing judge Craig Revel Horwood weren't afraid to make their views felt over the proposed changes the the beloved medium.
New government proposals mean that the state could appoint the editorial board and therefore have much more of a say in what type of programmes are broadcast.
"To attack, in any way, the industry of television in this country, is to attack actors in all mediums." bemoaned the 'Wolf Hall' actor.
#BAFTATV WINNER: Leading Actor - Mark Rylance, Wolf Hall https://t.co/DouPXPx31Z pic.twitter.com/TlvvvJQ5sy

— BAFTA (@BAFTA) May 8, 2016
Whilst the judge added "If they are in charge of anything entertainment-wise it would be a complete disaster."
Meanwhile, on a lighter note, many stars of the evening chatted to reporters on the red carpet and messed around behind-the-scenes.
Everybody's favourite small-screen hunk Aiden Turner of 'Poldark' fame admitted that glitzy events are "alien to him" and despite being lusted after by most of the country, he still feels the attention is "kind of new" to him... aww bless!
However, the cast soon cheered him up with a group selfie!
Thank you soooo much to everyone who voted for #poldark we are over the moon! pic.twitter.com/xTsHTytUso

— Heida Reed (@ReedHeida) May 8, 2016
Funny man Peter Kay divided viewers with his silent acceptance speech.
The comedian won the award for the 'Best Male Performance In A Comedy Programme' for his hilarious sitcom 'Car Share'.
After beginning his speech with "Well..." There honestly wasn't much else...
Most viewers seemed to enjoy Kay's little joke according to Twitter, but some others were less than enthusiastic:
How can Peter Kay stand therein silence for a minute, then say thanks-for his acceptance speech. #Legend

— Mandi Chivasa (@mandichivasa) May 8, 2016
Love how Peter Kay can just stand there in silence and make the whole room laugh#BAFTATV

— Hannah Whelan (@hannahiiw) May 8, 2016
BAFTA made sure you could follow all the live action as it happened on the night via their Snapchat.
Make sure you check out the #BAFTATV Snapchat Live Story & follow BAFTA for all the best behind the scenes moments! pic.twitter.com/vzPrS4ctb2

— BAFTA (@BAFTA) May 8, 2016
Idris Elba straightening his bow tie in slow motion is EVERYTHING.
#BAFTATV nominee @idriselba posing for @houseoffraser's #slowglam cam this evening!https://t.co/Eorvw2degH

— BAFTA (@BAFTA) May 8, 2016
The full list of winners was as follows:
- Leading Actor: Mark Rylance, Wolf Hall
- Leading Actress: Suranne Jones, Doctor Foster
- Supporting Actor: Tom Courtenay, Unforgotten
- Supporting Actress:Chanel Cresswell, This Is England '90
- Entertainment Performance: Leigh Francis, Celebrity Juice
- Female performance in a comedy programme: Michaela Coel, Chewing Gum
- Male performance in a comedy: Peter Kay, Peter Kay's Car Share
- Single Drama: Don't Take My Baby
- Mini-series: This Is England '90
- Drama series: Wolf Hall
- Soap and continuing drama: EastEnders
- International: Transparent
- Factual Series: The Murder Detectives
- Specialist Factual: Britain's Forgotten Slave Owners
- Single Documentary: My Son The Jihadi
- Features: The Great British Bake Off
#BAFTATV WINNER: Features - The Great British Bake Off https://t.co/DouPXPx31Z pic.twitter.com/YlRdlSJvaB

— BAFTA (@BAFTA) May 8, 2016
- Reality and Constructed Factual: First Dates
- Current Affairs: Outbreak: The Truth About Ebola (This World)
- News Coverage: Channel 4 News: Paris Massacre
- Sport: The Ashes
- Live Event: Big Blue Live
- Entertainment Programme: Strictly Come Dancing
- Comedy and Comedy Entertainment Programme: Have I Got News For You
- Scripted comedy: Peter Kay's Car Share
- Radio Times Audience Award (voted for by members of the public): Poldark
- Special Award in honour of Alan Clarke: Lenny Henry
Finally for all of you out there worried about the safety of our world without Tom Hiddleston's character in 'The Night Manager' keeping us all safe, the actor has this message for you:
Tom Hiddleston, "very happy to manage the night at any time." We may just take him up on that! #BAFTATV pic.twitter.com/TWIXUz8nzf

— BAFTA (@BAFTA) May 8, 2016
PHEWF!