Are Bake Off's Mel And Sue In Talks To Save The Nightly Show?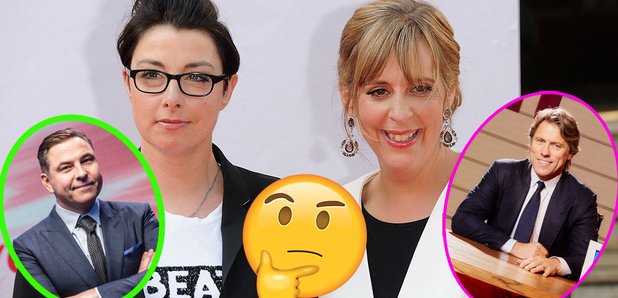 The Nightly Show on ITV has suffered criticism and a sharp drop in ratings, but are Mel and Sue in the running to save it? Rumour has it...
Mel and Sue may just have the weight of a whole ITV show on their shoulders!
According to insider reports, the presenting duo behind the Great British Bake Off are in talks with ITV to save 'The Nightly Show' - a new concept that has had lacklustre (and that's putting it mildly) reviews.
The show, which is modelled after big US TV shows like The Late Late Show with James Corden and The Tonight Show with Jimmy Fallon, has replaced the 10pm news on ITV. The only problem is no one really likes it!
The show was launched by David Walliams, but it swiftly lost viewers as the night's went on.
Audiences were also confused by the decision to change the presenter every week... with John Bishop now gearing up to take on a week of presenting duties. You can see John and David 'discussing' the hand-over in the video below...
With all of this drama happening behind the scenes, it looks like Mel Giedroyc and Sue Perkins are being considered to give the show a lift.
So, what went wrong for The Nightly Show?
Issues kicked off on opening night when A-list actor Russell Crowe pulled out at the last minute forcing Doc Martin actor Martin Clunes to step in. This probably wasn't the best way to start a new series!
An ITV spokesman told the Daily Mail newspaper: 'We are just five shows into a 40-episode run with The Nightly Show and it's therefore still very early days as we try something new that extends the primetime entertainment feel of ITV beyond 10pm.'
What do you think? Can Mel and Sue save The Nightly Show? Let us know below...