Ben Shephard Has No Idea What The Aubergine Emoji Means And It's Hilarious
18 January 2018, 11:48 | Updated: 18 January 2018, 12:00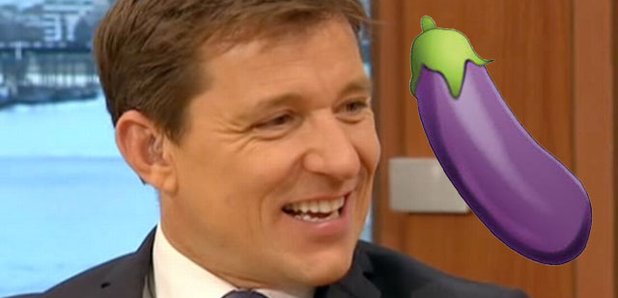 Ben Shepherd was left flustered as he admitted to his friend sending him aubergines "all the time".
Today's Good Morning Britain took a slightly naughtier turn than normal as the topic of aubergine emojis came up.
Dating expert, Nadia Essex joined the presenters to talk about 'micro-cheating' - a concept where commenting or sending emojis on other people's social media pics whilst in a relationship, is considered cheating.
Nadia explained: "An emoji speaks a thousand words so you must use them carefully. I've dumped guys in the past for the use of the wrong emoji."
Curious to find out what exactly is the "wrong emoji" she explained that this meant everything from the love heart, wink face and "Anything vegetable-esque like the aubergine."
Totally oblivious to the aubergine emoji's underlying meaning being a male's privates, Ben said: "That's one of my friends' favourites. She sends me an aubergine all the time!"
Shocked by his confession, his co-host explained: "You can't be sending aubergines,' Kate said. 'Even I know that."
To which Ben innocently replied: "What's being implied by sending the aubergine?"
Meanwhile his naivety had fans in hysterics, shocked that the host had no clue about the vegetable's connotations.
Funniest conversation on @GMB this morning with Ben Sheppard completely unaware of the connotations of the aubergine emoji.
— Liz Duke (@lduke2012) January 18, 2018
Poor old @benshephard getting all flustered over his aubergine emoji lol @susannareid100 @kategarraway help him out lol #gmb #microcheating

— Chris Atkinson (@Stoph76) January 18, 2018
@GMB omg the micro cheating segment was hilarious! Poor @benshephard To be fair I think most social media/ tech savvy people know what they are sending these days. Even though I did have to explain the aubergine relevance to my Dad the other day! #Microcheating

— Kimberley Bliss (@obsessedkim) January 18, 2018
Ben even vouched for all the grocer's out there, questioning what they would use if they want to message people about their produce.

He said: "What happens if you're a grocer and you like sending fruit and veg? You've killed them!"

Aww, bless him!

Watch more: