Blind Date Contestants Accidentally Reunite 25 Years Later On The Tube
25 August 2017, 14:40 | Updated: 25 August 2017, 14:52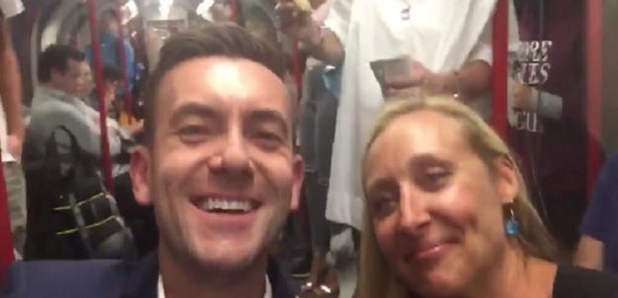 Every day, thousands of people use the tube to get from A to B and you hardly ever see the same person twice, let alone someone you went on a date with 25 years ago on a TV show.
Nevertheless, Howard Griffiths and Brigette defied the odds and accidentally bumped into each other over two decades after they met on Blind Date hosted by Cilla Black.
Howard was on the Central Line after meeting a mate for a few pints, when three women got on the tube and sat down opposite him.
"This beautiful blonde lady sat opposite me caught my eye, and asked me 'don't I know you?'" Howard told Heart. "I'd done some work on a shopping show earlier this year on Channel 5 and I thought she recognised me from the telly!
"Then, she said Blind Date and I knew immediately that it was Bridgette!"
The pair appeared on the original series back in October 1992, and ended up being sent to Germany for their date.
"I chose her because she told me about her curves and I was visualising miles and miles of endless curves!" said Howard.
Still in shock! Just met #Brigette who I picked on @ITV #BlindDate ,for the 1st time in 25 years on the @TfL #CentralLine #London pic.twitter.com/IFcl4jULOg

— Howard Griffiths (@HowardGriffiths) August 24, 2017
"After the date we spoke on the phone but it sort of fizzled out.
"She hasn't changed a bit!
The pair exchanged cards on the tube but other than a brief phone call this morning, the couple haven't had a chance to catch up.
"Well, I'm single at the moment but other than that short three minute tube journey, I don't know anything about her!
"But we're going to meet up for a catch up definitely."