Bradley Walsh Finally Apologised For His Infamous Innuendo On The Chase!
31 July 2017, 13:04 | Updated: 31 July 2017, 14:28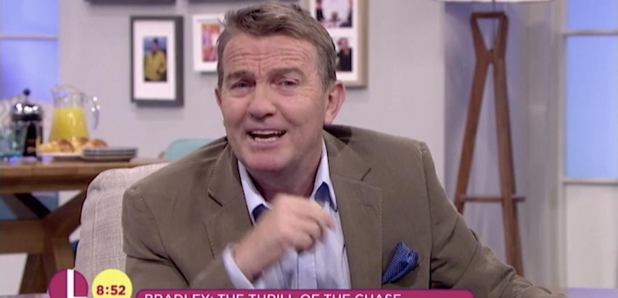 Bradley has apologised for a cheeky blunder that happened on The Chase back in 2011.
We love The Chase and equally love it's host Bradley Walsh!
Over the years he's made us crack up with laughter with his witty one liners and his accidental innuendos, but one sticks out more than others and Bradley Walsh finally apologised to the main person involved.
Cast your mind back to an episode of The Chase in 2011 and you may remember Bradley asking contestants "Which sport is Fanny Chmelar famous for?"
The host barely read out the question before he burst out into an uncontrollable fit of giggles. The clip of his hilarious reaction to the question went viral online and we bet poor Fanny wasn't too impressed to hear about it.
So six year's later while appearing on TV's Lorraine with this week's stand in host Christine Bleakley he felt it only right to finally speak about that infamous moment.
Speaking of The Chase, Christine said "You do have some laughs on it don't you? Going back to the Fanny question" and Bradley said "I'd love to meet her, just to apologise".
He continued "I do have to apologise to fanny. I'm sorry Fanny. She's a very downhill skier by all accounts".