Last Night's Bake Off Episode Featured The Filthiest Baking Innuendo Yet!
13 September 2017, 10:08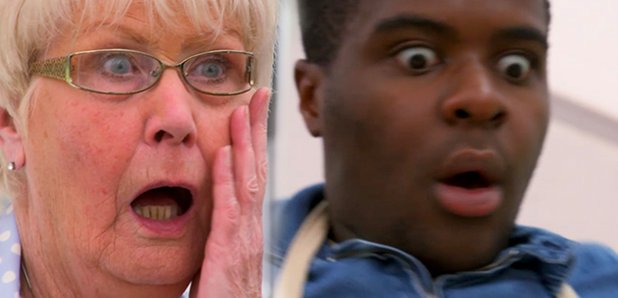 The bread week episode was possibly the most scandalous episode of the Great British Bake Off Yet!
The Great British Bake Off without its fair share of innuendos is like scones without jam or cupcakes without icing, it just wouldn't be right.
But be careful what you wish for as last night's episode of the bake off was full of some of the FILTHIEST innuendos the show has ever seen!
It was bread week, the stage of the competition that resident dough expert Paul Hollywood relishes and sends the bakers weak at the knees. It also provided with some of the cheekiest comments of the series and these did not go unnoticed.
The technical challenge set by Paul this week saw bakers tackle a cottage loaf, a load made by stacking two balls of dough and before thy'd even started he pointed out the trick is to make "both balls quite tight".
He continued, "The way that we do that and the way I do it is to drive my finger right the way through to the tray underneath" which led Prue to jump in and ask "Do you flour your finger?"
Ooh err! We expected it of Paul but don't lower yourself Prue...
Even the contestants got in on the innuendo with the most innocent looking contestant of the bunch, 19-year-old- Liam pulling some cheeky commends out of the bag...we suspect he didn't mean it though!
September 12, 2017
Despite the giggles we got during last night's episode, the time came to say goodbye to another baker and this week it was sadly audience favourite, Flo!
She stole the nation's hearts during a clip last week where we met her pals and saw them all dancing to All About That Bass together. But sadly, she'll be on our screens no longer after falling victim to bread week.
Oh wonderful Flo, so sad to see you go. Thanks for the sunshine you've brought to our tellies. Long may you bake! #BreadWeek #GBBO pic.twitter.com/sXRKyGGPvI

— British Bake Off (@BritishBakeOff) September 12, 2017
Oh Bake Off, you may have switched channel but your baking talk hasn't got any cleaner. Utter filth, but may you never change!