The REAL Britain's Got Talent results have been revealed
4 June 2018, 11:34 | Updated: 4 June 2018, 12:33
The official voting figures have been made public after Lost Voice Guy's win during the final on Sunday night.
Britain's Got Talent winner, The Lost Voice Guy won by a huge landslide after gaining 21 percent of the public vote.
The 37-year-old comedian - whose real name is Lee Ridley - took home the top prize of £250,000 on Sunday night with fellow comedian Robert White taking second place with just 17 percent.
Together the pair stormed ahead of their their closest competitors, Donchez Dacres and Gruffydd Wyn both logged just over 11 percent of the vote each.
The Lost Voice Guy's win follows a strong semi-final which saw him take home more than 40 percent of the overall vote.
Speaking after he won, he said: "I have been blown away by the support of the judges and the general public.
"I've got so much love for everyone and I'm really grateful for it all. I'm very excited to get to perform for the Queen. I've loved her since she sang 'Bohemian Rhapsody.'"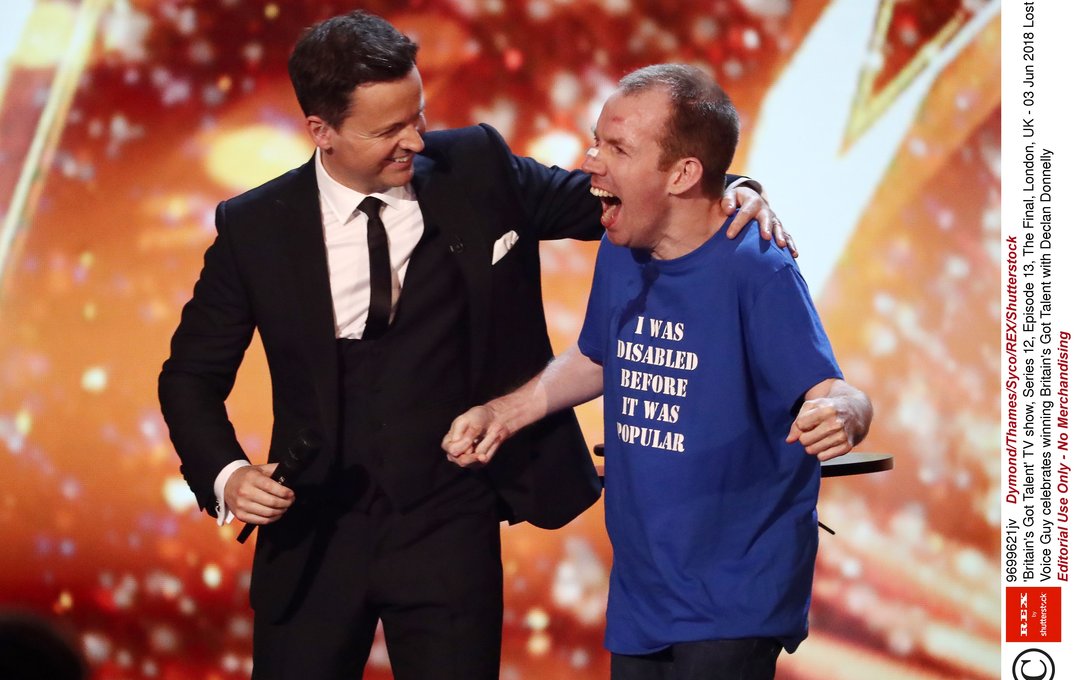 The judges then took to the stage to congratulate Lost Voice Guy, with Simon Cowell adding: "To you, you so deserve this. I'm so happy."
It was an exciting final, with Lost Voice Guy even managing to crack a joke about the new facial injuries he was sporting, after confessing he fell over whilst drunk when celebrating his semi-final win.
In his routine, he quipped: "I felt like a rock star after last week's show.
"But because it takes me so long to communicate with people through my computer, I couldn't decline drinks fast enough. So by the time I said no, they'd already bought me one.
"And, by the end of the night, I fell over!"
And in another part of the routine, Lee joked about he had "joined a disabled Steps tribute act" and called it "ramps".
Meanwhile, comedian Robert White - who is known for his comical music tunes slating the show's judges - had the crowd in stitches as he performed more original material.
Speaking to presenter Dec Donnelly after finding out he was runner up, he shared: "It's amazing. This whole year was about giving up comedy and starting teaching. It will be a lovely thing to remember comedy as and I will become a full time teacher in September."
Donchez Dacres placed third and thanked the public for embracing his catchy track 'Wiggle Wine'.
As part of his prize, Lost Voice Guy will take to the stage at the Royal Variety Performance later this year.