Lucy Mecklenburgh demands CBB's Roxanne Pallett makes a public apology for falsely calling Ryan Thomas a 'woman beater'
3 September 2018, 10:27 | Updated: 3 September 2018, 10:57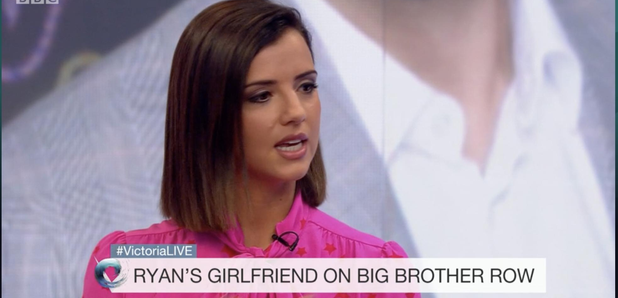 Lucy Mecklenburgh appeared on Victoria Derbyshire to demand Roxanne Pallett apologises to her boyfriend Ryan Thomas.
Lucy Mecklenburgh has demanded Roxanne Pallett apologises to her boyfriend Ryan Thomas after falsely labelling him of being a "woman beater.
The Towie star, 27, has been dating Corrie actor Ryan, 34, since 2017, and has publicly denounced his treatment by both Celebrity Big Brother producers and housemate Roxanne, 35.
Speaking on today's Victoria Derbyshire show, she said: "Big Brother need to revoke his warning and for her to make an apology.
"When they've given warnings in the past they're for serious things, but he didn't actually do anything.
"Everyone can see with their eyes that nothing happened."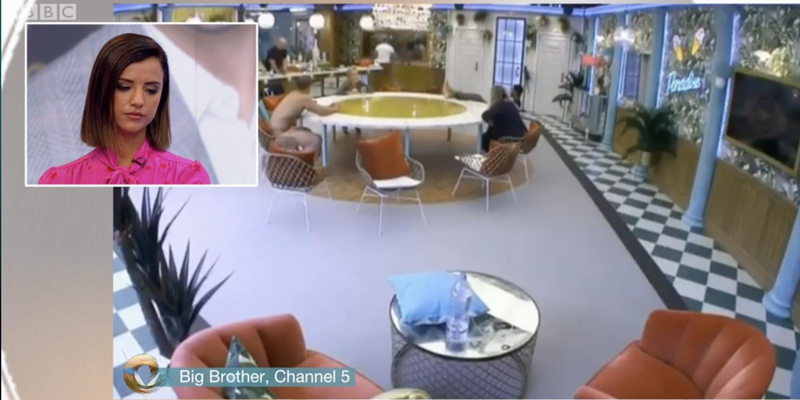 Lucy looked visibly upset as the 'punch' incident footage was played (Image: BBC)
On Thursday night's episode, viewers watched as Roxanne pleaded for Ryan - Jason Grimshaw in the ITV soap - to be removed from the house after "punching her like a boxer punching a bag".
Lucy said she felt helpless as she watched Ryan breaking down as the house turned against him believing that he had attacked her.
She said: "It's been really hard to watch for me, Ryan's family and friends.
"He wouldn't hurt a fly.
"We all know the truth and that nothing happened, but for him to go through it and think that people on the outside think he's a woman beater has been so hard.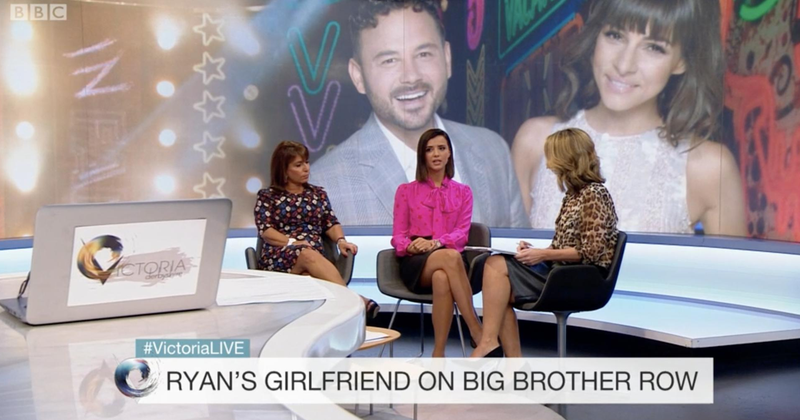 Lucy appeared along with psychologist Jo Hemmings (Image: BBC)
"His daughter hasn't been watching it, she's only 4, but we don't want people saying things like this and his daughter hearing."
Lucy added that she was thankful that the incident - where Ryan playfully shadow boxed the ex-Emmerdale actress for a few seconds - didn't happen in the toilets, which is the one area of the Channel 5 compound not rigged with cameras.
She added: "I think she sees to apologise publicly to Ryan and really mean it, and I think she needs to get some help.
"It's defamation of character/. It was a complete lie. She play fights with Ben every day. I'm not even sure his hand even touched her.
"Big Brother fuelled the situation by giving him a warning and letting her sleep in a separate bedroom overnight.
"I think we can all see that he didn't hurt her and she play fights with everyone in the house.
"It says a lot she went to the men in the house and not the women.
"I do want her to apologise and maybe she can come back from this." Victoria added that Roxanne declined to join the live debate or give a statement.
Roxanne quit the show in the early hours of Saturday morning, leaving the house to a barrage of hate.
Previous co-stars have implied that making false claims about being hurt by male actors isn't out of character for her, with Danny Miller going as a far as labelling her a "compulsive liar".
The backlash has been so fierce that her team deleted all of her social media accounts so that she wouldn't have to read what the public had been saying about her.
Lucy added: "I don't agree with trolling or death threats. I can understand why someone deleted her accounts.
"I think she needs to draw a line under it."
Also on the programme was Jo Hemmings, a Duty of Care psychologist who has previously worked on Big Brother.
She said: "This shouldn't have happened. Duty of care assessments are to make sure you are robust enough and have the coping mechanisms to deal with life in the house.
"She would have been better off not going in to the house in the first place.
"I have huge amounts of sympathy for Ryan."