Rodrigo Alves: who is the Human Ken Doll in Celebrity Big Brother, what surgery has he had and what did he look like before?
28 August 2018, 10:21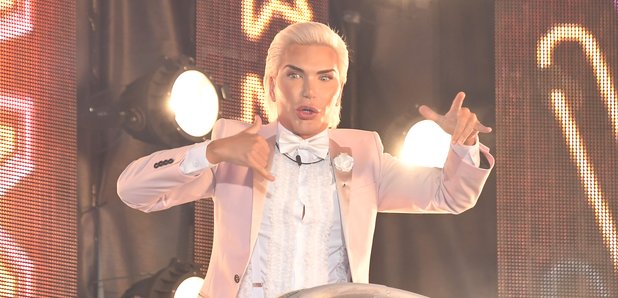 CBB contestant Rodrigo Alves is best known as the Human Ken Doll. Here's everything we know about the man who claims to have the 'perfect male physique'.
Human Ken Doll Rodrigo Alves entered the house last week alongside other Celebrity Big Brother contestants Dan Osborne, Roxanne Pallett, and Gabby Allen.
Here's what we know about the showman...
Why was Rodrigo kicked out of the house?
Rodrigo made a huge stir during his time on CBB with fans of the show calling for him to be kicked out, after he went up to Ben Jardine and asked him to expose himself whilst enjoying a bath.
Viewers were left feeling uncomfortable and accused him of 'pestering' Ben to see his private parts, and are calling for Rodrigo to be axed from the show.
Since those events, Celebrity Big Brother bosses decided to remove him from the house although Rodrigo claims he made the decision to leave.
A CBB insider told The Sun Online that 'Rodrigo behaved seriously inappropriately inside the house,'
The official statement read:
'After a further incident, Rodrigo has been removed from the Big Brother house and will not be returning,'
READ MORE: CBB Dan Osborne shares 'awkward' kiss with Gabby Allen
Rodrigo is already on his final warning after he used the N word during a live episode.
Big Brother explained: "Big Brother does not condone or tolerate the use of any kind of racist or offensive language in the Big Brother house.
Rodrigo has received a formal and final warning and if such language is used again in the house, he will be removed immediately. Rodrigo has apologised for his comment".
Who is Rodrigo Alves?
Rodrigo is a 34 year old Brazilian-born personality, best known for his extensive surgery to look like the Human Ken Doll.
The showman speaks 5 languages, and hails himself a "fashionista, Jetsetter and plastic-surgery lover."
He once posted a photo on his Instagram with a caption explaining exactly why he turned to such extreme surgery measures. He wrote: "It is my life and I have to freedom to do what I want with it!
"I do not cause anyone harm and I don't owe anyone money either, for those that know my true story I was born in Brazil suffered a lot body image bullying and when I moved to the UK at the age of 20 I decided to reinvent my self and so I did!
"I speak 5 languages, i travel the world, I got a very good education degree in the UK..."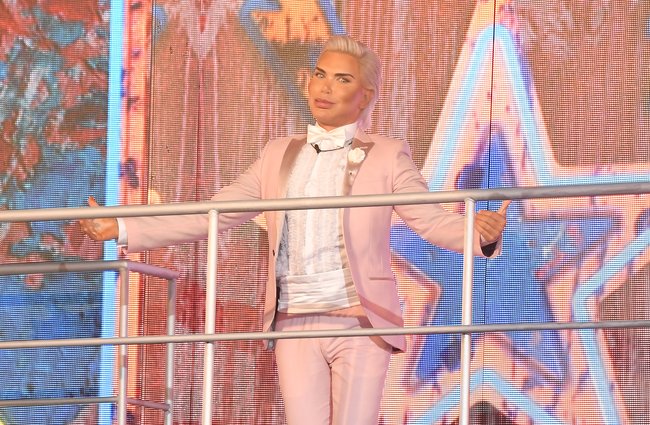 Credit: Getty
What surgery has Rodrigo Alves had?
Rodrigo has spent over £500,000 on 103 cosmetic procedures. 51 of these were plastic surgeries.
According to The Sun, his list of surgeries include:
£30,000 on nose jobs
£28,000 to remove four ribs
£22,000 on a fake six pack
£10,000 on pec implants
£8,000 on Botox and fillers
£7,000 on fillers to his arms
£7,000 on laser lipo
He has previously explained: "Male perfection is to me having symmetry. So a chiselled face, broad shoulders, a lean figure, a prominent jaw line, defined abs and a chest in proportion.
I have had a hair implant, a brow lift, eye lifts, my ears pinned back, cheeks redesigned, my jawline shaped.
"I've had cheek implants twice, the sides if my lips cut out in order to give me a bigger wider smile.
"I have had fillers injected into my shoulders, biceps, triceps, my abs – my six pack is purely plastic surgery.
"I have the most beautiful six pack."
Is Rodrigo Alves going to have more plastic surgery?
In January 2018, Rodrigo announced that he wouldn't have any more surgery, after he has been warned that further procedures will carry health risks.
He told The Sun: "Plastic surgery-wise, I would say that I'm done. I'm officially made but if anything falls apart - like if my face goes wonky - then I'll have to get more work done.
"I now want to focus on building my brand with my style, fashion, personality and lifestyle - that's what I want to known for."
However, he has been known in the past to make similar promises, which he consequently broke.

What did Rodrigo Alves look like before his surgery?
Rodrigo once shared a throwback snap on his Instagram, showing him with a fuller face and less-chiseled physique:
What is Rodrigo Alves' sexuality?
Rodrigo defines himself as asexual but keeps much of his personal life private.
He has previously said: "I don't really like to be touched, and I am too selfish really for sexual contact.
"I don't like to touch other people too much either."