WATCH! Chase Fans Can't Get Over The Governess' Reaction To BIG Take Down
31 October 2017, 16:52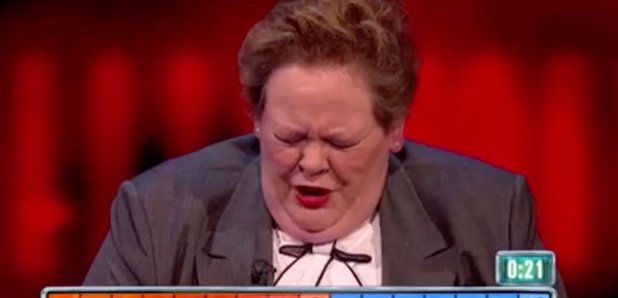 She got nine questions wrong and viewers are loving it
Yesterday, The Chase's Governess, Anne Hegerty received the ultimate take down, the moment contestants Daniel and Laura took her on.
Whilst Daniel and Laura answered six questions correctly in the final chase, the Governess got nine wrong - allowing the duo to walk away with a whopping £11,000.
Things started to go pear-shaped for Anne at question three. After being asked what game used a "Texas transfer" she answered, "Poker" but it was in fact, Bridge - which Laura and Daniel got correct.
And fans couldn't get over The Governess' priceless reaction, calling her "frosty knickers" and all sorts!
The Governess having a mare! #TheChase

— Mariam (@mariamhu1) October 30, 2017
I don't think i've ever seen The Governess look so gutted ! #TheChase

— Mace Windu (@Mayce_Windu) October 30, 2017
Ooh Frosty Knickers not happy, can't blame her. See you Wednesday guys. #TheChase #gangofchase

— Jess Marshall (@jsvmarshall) October 30, 2017
Better luck next time, eh?
Watch more: