Cheaters On Screen! The Hottest Affairs On TV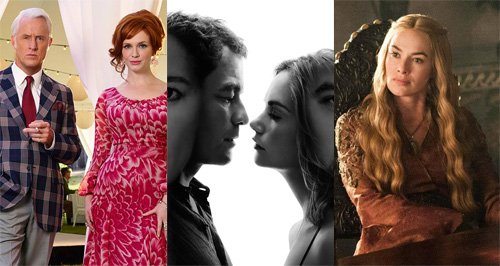 What happens when you mix amazing drama with a saucy affair? Addictive TV that's what! Now it's easy to get your fill of sneaking around (without doing anything you'll regret) with a box set binge.
Whether it's something completely mad you're looking for (ahem, 'Scandal' and 'Homeland' we're looking at you!), or something a little more realistic, we reckon we've found the fictional affair for you.
Let's kick things off with a classic...
Joey and Pacey - 'Dawson's Creek'
The essential 90s teen drama included enough tears, back-stabbing and general angst to last a lifetime, but it was Katie Holmes and Joshua Jackson's chemistry that stole the show. Their characters, Joey and Pacey, couldn't resist each other despite the Dawson-shaped roadblock. Cue Dawson's 'ugly cry' face, which goes down in history as one of the cringiest things ever…
Noah and Alison - 'The Affair'
We're addicted to this clever US drama about a married man, played by Dominic West, who begins a whirlwind affair with waitress Alison. Both have got plenty of baggage and we know what they're doing is wrong...but we secretly look forward to all their scenes together! Plus, the second series starts on Sky later this year, which means more steamy cheating. You'll find us glued to the sofa...
Roger and Joan - 'Mad Men'
Let's face it, there have been more affairs at SC&P than you can shake a stick at, but we've got a soft spot for Roger and Joan, who really made their mark in series one. John Hamm's Don Draper may have been the ultimate lothario of 'Mad Men' but he can't touch Roger and Joan on the steam stakes!
Olivia and Fitz - 'Scandal'
He's the President of the United States. She's a smoking hot political fixer who owns every room she walks into. They're also having a super sexy affair. If you haven't watched this American smash-hit where have you been? There's five series to catch-up on and plenty of Oval Office action to discover. Swoon!
Brody and Carrie - 'Homeland'
There's something a tad on the ridiculous side about a terrorist double agent falling for a badass FBI lady, but then again 'Homeland' is full of so many twists and turns we're beyond caring. We don't want to spoil the show for you, but if you're fans of Brody and Carrie it's probably best to stick to the first three series only...
Annalise and Nate - 'How To Get Away With Murder'
Super lawyer Annalise Keating (played beyond amazingly by 'The Help' actress Viola Davis) is getting it on with police detective Nate behind her husband's back. Although her husband was a cheater, liar and wannabe-murderer so maybe we will let Annalise off for this one!
Rayna and Deacon - 'Nashville'
These two lovebirds are one of our favourite things about country music drama 'Nashville'. Their characters met before the show started, but they kicked off their affair again in the first series. The result was an illegitimate daughter and an on-again-off-again romp. We're obsessed!
Jamie and Cersei - 'Game of Thrones'
Okay, so we admit this one is a little creepy – after all they are brother and sister in the show. But the chemistry between actors Lena Headey and Nikolaj Coster-Waldau is off the charts. At the end of the day, they're the ultimate couple we love to hate.