Chris Pratt is helping a 16-year-old cancer patient complete his bucket list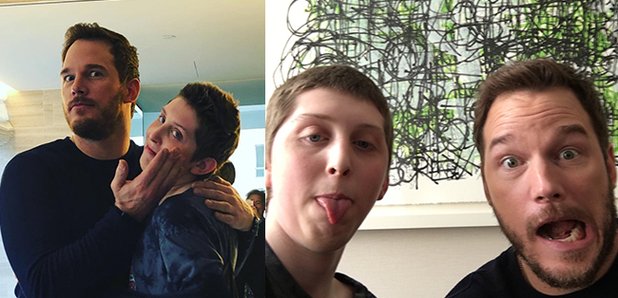 The Jurassic World star is helping 16-year-old Jacob tick three things off his bucket list.
Sixteen year old Jacob Monday is suffering from a rare form of bone cancer.
Sadly, the teen has decided to give up on treatment and instead focus his energy on ticking things off his bucket list and he's recruited none other than Guardians of the Galaxy and Jurassic Word star, Chris Pratt, to help.
The 38-year-old actor shared some heartwarming snaps of him and Jacob on Instagram to help tick off one of his goals - get lots of followers.
He captioned the image: "One of the things he wants to do is get a ton followers on Instagram. So follow his story for updates, and to help as he checks off items on his wish list! Show the love!!!"
"Jacob and I had fun chatting and kicking it for a few hours. Let's see how many followers we can get him!' he wrote, with the tag #FollowJacobMonday."
At the end of Jacob's day with Chris he already had accumulated a massive 35,000 followers on the social media site.
Two of his other items on the list that Chris helped him fulfil were meeting the star of his favourite movie (check!) and getting his hair and make up done.
Chris said: "Here we are living that glam life!"
You can follow Jacob by clicking here.