Fans Shocked As Chris Tarrant Spits Out Food Live On TV!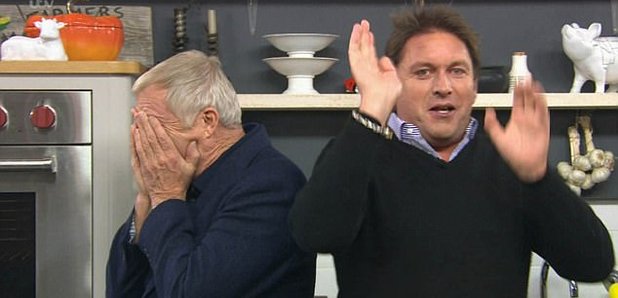 The TV presenter wasn't a fan of some of the food on the show...
Chris Tarrant had audiences at home rolling their eyes during his appearance on Saturday Morning with James Matin at the weekend.
The TV veteran and James Martin, who hosts the weekly show, were invited to try an Icelandic national dish cooked by chef Agnar Sverrisson cooked live on the show.
The dish in question was fermented shark and it's safe to say Chris wasn't a fan...
Both Chris and James didn't hold back with their opinions declaring that the dish was 'horrible' and 'disgusting' before spitting it into the sink behind them.
Many viewers at home were shocked by what they saw and felt that poor Agnar had every right to be offended by their behaviour despite him appearing to take it in good humour.
Chris Tarrant is being incredibly rude the to Icelandic chef Aggi Sverrisson on James Martin's Saturday Morning, it's embarrassing @jamesmartinchef

— Diane Jackson (@MacclassDiane) January 20, 2018
Chris Tarrant being annoying and disrespectful on @jamesmartinchef this morning. Let the poor man speak!

— Scotslady (@patoisbabe) January 20, 2018
But not everyone watching at home came down so harshy on Chris with some laughing at he and James' misfortune as they struggled to keep down the Icelandic dish.
Read More:
What a show @jamesmartinchef Saturday morning was. Couldn't stop laughing all the way through. Chris Tarrant was hilarious too. Top Saturday tv.

— Gareth McNamara (@GazethM) January 20, 2018
@sat_jamesmartin Hilarious show today. Bet @jamesmartinchef needed a lie down in a darkened room after this experience with Chris Tarrant!! #hilarious #greatTV

— Peter Cromarty (@Cromaz) January 20, 2018
Perhaps if everyone watching at home had to try fermented shark they might not be so quick to judge!