Singing James Corden Crosses The Road Stark NAKED With Hamilton's Lin-Manuel Miranda
22 August 2017, 08:28 | Updated: 22 August 2017, 08:31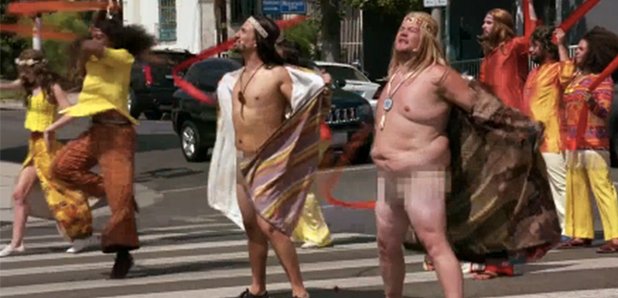 This latest sketch from The Late Late Show demonstrates just how far James Corden will go in the name of comedy.
The mastermind behind hit Broadway show, Lin-Manuel Miranda, has joined the British host of The Late Late Show in a naked dance across a zebra crossing in LA for a sketch for the talk show, 'Crosswalk: The Musical'.
Corden and his crew were joined by Lin-Manuel to perform a rendition of the of 1960s counter-culture musical, Hair.
And the audience of unsuspecting drivers stuck at a red light were left in a state of shock as the pair stripped down to their birthday suits, all in the name of entertainment.
The duo performed a handful of hit songs from the show, including Age Of Aquarius and Let The Sunshine In.
After taking their bows and thanking their audience (who had no choice but to watch the show) Miranda said: "After performing out there in front of all those cars, I don't know how you go back to Broadway. Everything else is boring!"
James Corden has recently said how much he is enjoying life at the moment, even if it does mean stripping down beyond his undies in the middle of the road!
James - who has kids Max, six, and Carey, two, with pregnant wife Julia - insists he can't imagine his life being any more "amazing" than it already is.
Speaking in the Jess Cagle Interview, which streams on the People/ Entertainment Weekly network, he gushed: "If life's not good right now, how's it ever going to get better than this? It's amazing."
Though he's very happy with his wife, James confessed he'd love to kiss John Mayer.
He said: "If I had to kiss one celebrity right now, it would be John Mayer because, you know, it just sounds like it's fantastic."
And the British star admitted he wishes he was able to have the odd day off sick without it causing problems for himself and his show.
He said: "The one thing that I wish I was allowed to do on television but I'm not is call in sick with no repercussions."