Everything You Need To Know About The Will & Grace Revival
16 May 2017, 16:14 | Updated: 14 July 2017, 11:11
Will & Grace - The Reunion Is Coming
00:44
Will, Grace, Jack and Karen: we've missed you!
There's no doubt about it: we've seriously missed best friends Will Truman and Grace Adler over the past few decades, so we're super excited that it's making a comeback.
Here's when it will be back on your TV screens and what you can expect.

What's the Will & Grace revival about?
Will & Grace, which originally aired between 1998 and 2006, is set in New York City and follows the relationship between Will Truman, a gay lawyer, and his best friend Grace Adler, a Jewish woman who owns an interior design firm. The pair dated back in the day, before Will came out as gay. The show tackles issues on dating, marriage, divorce and casual sex and comical stereotypes of gay and Jewish culture. This revival will acknowledge will 10 year gap since the last series, as we explore how the characters' lives have changed now that most of them are in their forties.
Is there a trailer?
Here is the trailer for "Will & Grace" coming back to NBC this Fall. pic.twitter.com/TXStztCEFF

— Sean Hayes (@SeanHayes) May 15, 2017
Darn tootin'. And it's five minutes long – and there's a even a little singalong. The recently unveiled trailer sees two of the main characters roam around the NBC studio after the revival, before they wander onto the set and start to live out the sitcom. It's proper #feels, and if you're not a little damp around the eyes by the time the old theme tune starts to play at the end, we might have to really questions your commitment to late '90s, mid-noughties light entertainment.
Are all of our favourite characters returning?
Yes! Eric McCormack and Debra Messing are returning as Will and Grace and Sean Hayes and Megan Mullally have confirmed that they are reprising their roles as friends Karen Walker, a boozy socialite, and Jack McFarland, a flamboyantly camp actor.
The cheerful foursome have already celebrating their reunion by posting photos from the set.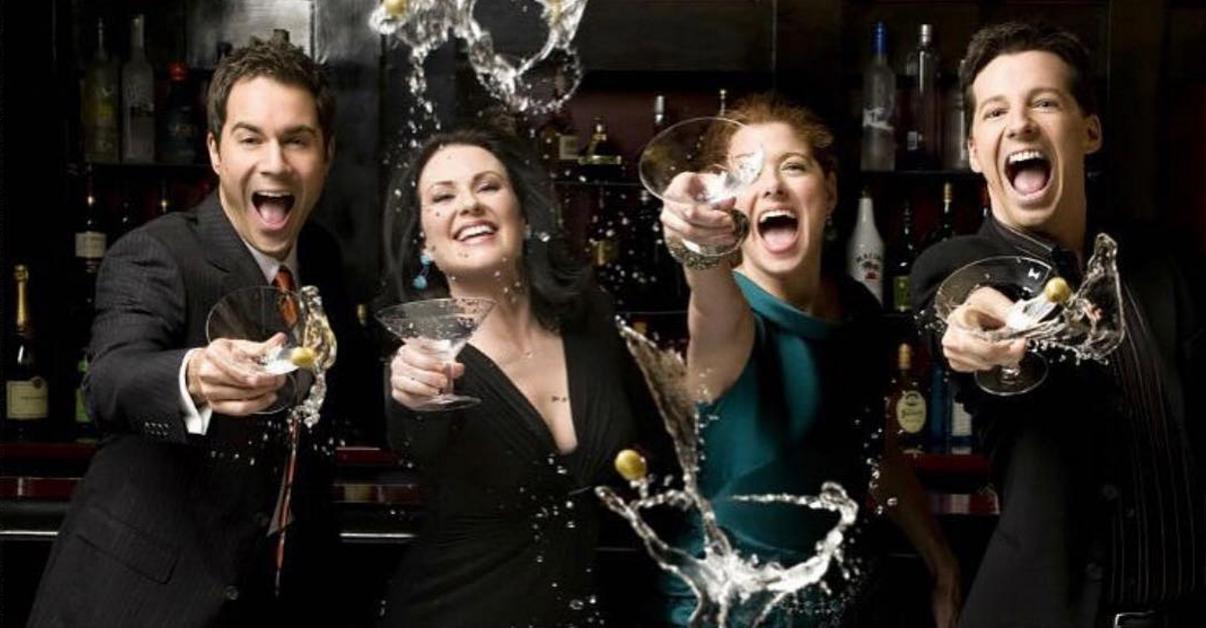 The original series creators David Kohan and Max Mutchnick are also making a return to the show and James Burrows, who directed every episode of the show during its initial run, will return in the same capacity. Kohan and Mutchnick will again serve as showrunners.
"We're thrilled that one of the smartest, funniest and most defining comedies in NBC history is coming back," said NBC Entertainment chairman Robert Greenblatt. "This groundbreaking series for everything from gay rights to social and political commentary — all disguised as a high-speed train of witty pop culture — is coming back where it belongs."
Will the show be feel-good or melancholic?
Eric McCormack said in an interview with People magazine that Will & Grace would always be an escape from the world: "When we did the [original] show, we had 9/11, we had the Iraq war, there was a Republican government for six of those eight years. We didn't address it, we didn't do an AIDS episode. We were an escape, we were an antidote to all of that. So if there's anything we need [right now], it's an antidote."
Are there any recent photos of the cast hanging out?
Abso-blooming-lutely. Feast your eyes, Will & Grace fans, at this snap of the gang kicking it at a New Party hosted by the magazines Entertainment Weekly and People.
When will I be able to watch Will and Grace the revival?
Filming has already begun on the latest series and although there the production company are yet to confirm a release date, rumour has it that it's likely to be broadcast in the latter part of 2017 or early 2018.
How many episodes will there be?
Will & Grace the revival series will consist of 10 episodes. This is roughly half the number of episodes broadcast in the previous eight series.