The Moment This 'Britain's Got Talent' Stunt Goes WRONG Will Make You Shudder...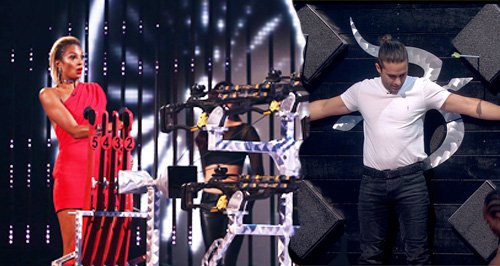 A contestant narrowly escaped a severe injury during a nail-biting daredevil stunt live on television.
Let's face it, anything that Simon Cowell gets his mitts on will never be short of controversy and it seems that 'Britain's Got Talent' has set tongues wagging once again.
Alesha Dixon nearly put a contestant in grave danger when she nearly shot him with a crossbow during Britain's Got Talent's live semi-final.
The gorgeous judge almost came close to ruining Ben Blaque's dangerous routine when she accidentally fired two crossbows at once after complimenting the handsome contestant on his "beautiful eyes".
Ben first showed off his excellent shooting skills by hitting a balloon string with an arrow with pin point precision, before asking the former Mis-Teeq star to help him complete the stunt.
"I am going to give you the option to pick four of these to fire, any one of your choice, while I am standing over there," he said.
"Four are aimed to miss me and one is not, and all of these crossbows have a string tied to the trigger which are mixed up and are attached to these levers.
"We don't know what crossbows go to which lever".
Of course the suspense saw Alesha mistakenly fire two arrows, but LUCKILY the contestant came out without a scratch.
Simon Cowell Proposes Live On Air
We never thought we'd see the day the beast had been tamed, but it seems as though Mr.Nasty had a change of heart when he popped the question on Saturday night.
Unfortunately for Lauren Silverman, Simon didn't propose to her but to his co-judge David Walliiams.
The proposal came as Amanda Holden and Simon bickered as to whether a fake proposal that took place as part of a performance was an impressive ending.
Amanda was quick to get a dig in at the fact that Simon is not yet engaged to the mother of his two-year-old son, as she jibed: "A proposal… that'd be big for you."
And Simon was quick to retort: "Okay, will you marry me David?", to which David obviously stood up and shouted: "Yes!"
Alesha Dixon gets flustered by topless contestant.
Alesha Dixon brought comedy to the show when she appeared a little flustered over the physique of hunky spaniard, Saulo Sacramento.
The aerial pole performer, who hails from the Canary Islands, got the 37-year-old judge all hot under the collar when he took to the stage TOPLESS, baring is drool-worthy muscles.
Making sure to ask him his age, Alesha - who has two-year-old daughter Azura with dancer husband Azuka Ononye - seemed a bit too happy with the answer as she replied "that's good!" when Saulo revealed he was 28-years-old.
Of course, Alesha's flirtation only escalated once he'd finished performing, as she cooed: "Honestly it was just so beautiful to watch and you're so hot which makes it even better."
Her cheeky comment saucy response from Saulo, who told bantered: "I'm as hot as you are."
The Saturday night talent contest, appears to have riled up the opinions of viewers who have questioned everything from the judges decisions to the authenticity of some of the contestants.
Rachael Wooding
Last week, Rachel Wooding won over the judges with her stellar rendition of 'With You' from Ghost The Musical, but viewers remained sceptical as to whether she should have been put through given her professional theatre background.
The 37-year-old contestant had starred in 'We Will Rock You' among other musicals and also had a brief appearance in 'Coronation Street'.
Ian and Anne
While entertainment is a the heart of the show, viewers were left unimpressed by David Walliams' decision to award elderly couple, Ian and Anne a golden buzzer for their bizarre rendition of Beyonce's 'Crazy In Love', giving them a automatic fast pass to the final.
Colin Henry
Fakery accusations also surrounded popular upside-down pianist Colin Henry was exposed for lying about holding a Guinness World Record for 'the longest time balancing on your head'. However official at Guinness World Records claim he's not currently on their books as a record holder.
It was later revealed that he DOES indeed hold a record but not with Guinness and the mix-up was to do with an error on the BGT website!
A spokesperson told The Daily Mirror: "Colin's record is held with Mike Barwell's Alternative World Records and was awarded in 1987."
Whether the contestants are fake, or real, they've definitely got us all talking that's for sure!