Corrie's Anna Windass's Fate Sealed During Shock Twist In Her Final Scenes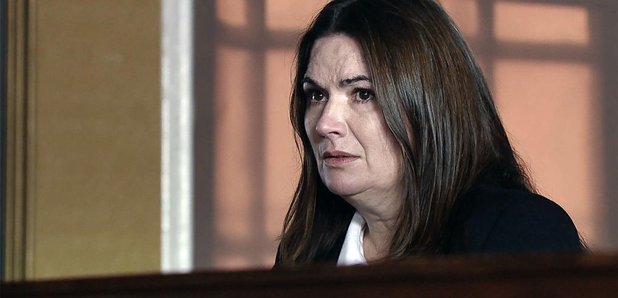 Fans were left with open mouths at the fate of Anna Windass during last night's Corrie.
Coronation Street fans all knew that Anna Windass - played by actress Debbie Rush - would be leaving the cobbles, but the real question was how would it happen?
Her time on the street has been dominated by her fuel with the evil Pat Phelan lately so many assume he would be involved with her departure but people didn't quite expect it to go down the way it did in her final episode last night.
After 10 years, Anna finally bid Corrie goodbye but the shocking twist in her fate has left fans gobsmacked.
During scenes last night viewers saw Anna on trial for GBH following her arrest in the car park during an earlier episode.
Many of Anna's friends such as Roy Cropper and Seb Franklin spoke up for her in court but it wasn't enough to save her. After not much deliberation from the jury they found her guilty and a gloating Phelan looked smug as the verdict was read out.
Dont those judges watch #Corrie ? They wouldve known Phelan was nasty and that Anna is innocent! @debbie_rush @connor9mcintyre

— JACKIE (@NannyJack71) January 23, 2018
WHAT THE ACTUAL HELL WAS CORRIE?!?! ANNA WINDASS SENT DOWN FOR SOMETHING SHE DIDNT DO AND PHELAN GOT AWAY AGAIN!!! FUMING NAAA

— daisy (@DaisyStoyle) January 23, 2018
Just cried at the end of Corrie, poor Anna innocent little soul

— Caitlin (@_caitlinandrews) January 23, 2018
Fans were not happy to see Anna get dragged off to prison and see Phelan leaving the court scot free after all the chaos he has caused on the street.
Lets hope the street don't forget about Anna while she serves her time as an innocent woman!