Fans Left Angry At This MAJOR Coronation Street Fail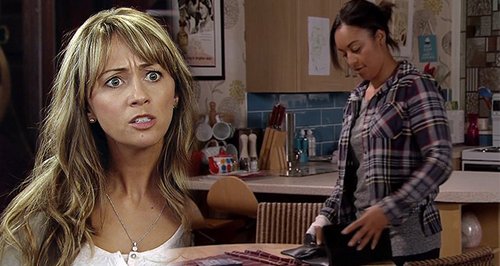 Coronation Street's story involving Caz and Maria is supposed to leave viewers feeling scared and hooked. But continuity issues and a long drawn out plot is instead leaving fans frustrated.
It is the stalker storyline that was supposed to have us on the edge of our seats, while simultaneously tackling some serious real-life issues.
Instead of being left freaked out by the creepy episode, viewers were in fits at the show's expense as some serious continuity issues turned it into a laughing stock and let the plot down.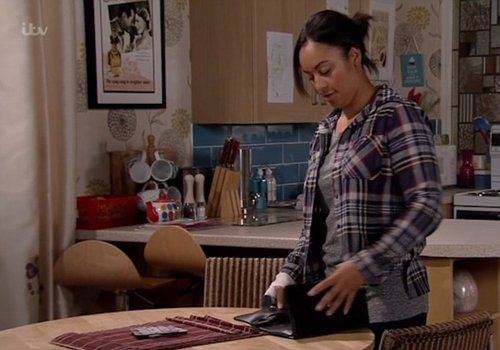 Caz was seen riffling through Maria's work bag. Picture | ITV
Incase you've missed the plot so far, Caz Hammond (Rhea Bailey) is trying to frame hairdresser Maria Connor (Samia Ghadie) for her murder, despite being very much alive.
The episode saw Caz break into Maria's house whilst she was at work. Caz, in an attempt to further incriminate Maria, was seen cutting her hand on the hairdresser's scissors left on the table. Meanwhile, Maria was seen grabbing her scissors from her work bag back in the salon.
Fans were quick to point out the continuity flaw; that Caz couldn't be using Maria's scissors if Maria was using them at work.
How did Maria's hairdressing bag end up on the table in her flat when she didn't even go inside @itvcorrie #coronationstreet #Corrie

— Danielle (@daniellelf90) 7 November 2016
#coronationstreet sack continuity Maria didn't go into the flat so how did the hairdressing scissors get onto the table?? Mmm PUZZLED!

— Motts (@Topcliffe) 7 November 2016
Caz also used the opportunity to install CCTV cameras in Maria's home, so that she can monitor her every move.
This left some viewers questioning whether it was possible for Caz to enter Maria's home unnoticed by anyone in the street, considering she is supposed to be dead.
So everyone is aware that Mad Maria is under suspicion of murdering Caz so how does Caz get unnoticed into Maria's Flat #coronationstreet

— FishChimps+MushyBees (@ChrisPDucks) 7 November 2016
Who thought.of the stupid Caz/Maria storyline bored already @itvcorrie c'mon story writers up the game #coronationstreet #Caz #Maria #bored

— Claire Davis (@dotsparkle50) 7 November 2016
The frustration felt at continuity issues combined with a long drawn out plot line has left viewers hoping that scriptwriters will put Maria out of her misery sooner rather than later.