Corrie's Phelan Strikes Again As New Spoilers Tease Shock Christmas Murder
23 October 2017, 12:57 | Updated: 23 October 2017, 16:36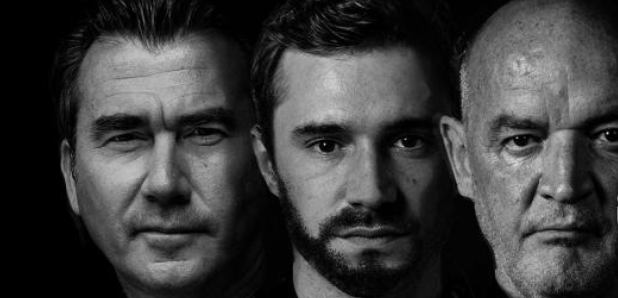 There's some deadly twists and turns to come - and Pat is just getting started...
SPOILER ALERT
Boo! Hiss! Corrie villain Pat Phelan has had viewers gripped for months thanks to his dastardly schemes and secrets. But the horrible handyman's house of cards starts to collapse this week – and somebody may end up dead as a result. But that's not all, as the latest spoilers indicate that his reign of terror will continue into Christmas! Ho ho no.
Whatever happens this week, Corrie fans can look forward to more devious goings on from Pat Phelan, as he'll be at the forefront during Corrie's festive period. Well, he'd certainly make a convincing Grinch!
Remember Geraldine, the poisonous grandmother of Summer? The poisonous pensioner (played by Lynne Verrall) tried to kibosh the adoption of Summer (Matilda Freeman) by Billy (Daniel Brocklebank) and Todd (Bruno Langley) due to her homophobic views. Scenes in December will see Geraldine attending a carol service where Summer and Phelan's wife Eileen (Sue Cleaver) are also in attendance. Will Pat decide to deal with the Geraldine issue in a permanent manner? (Not very Christmassy, is it?).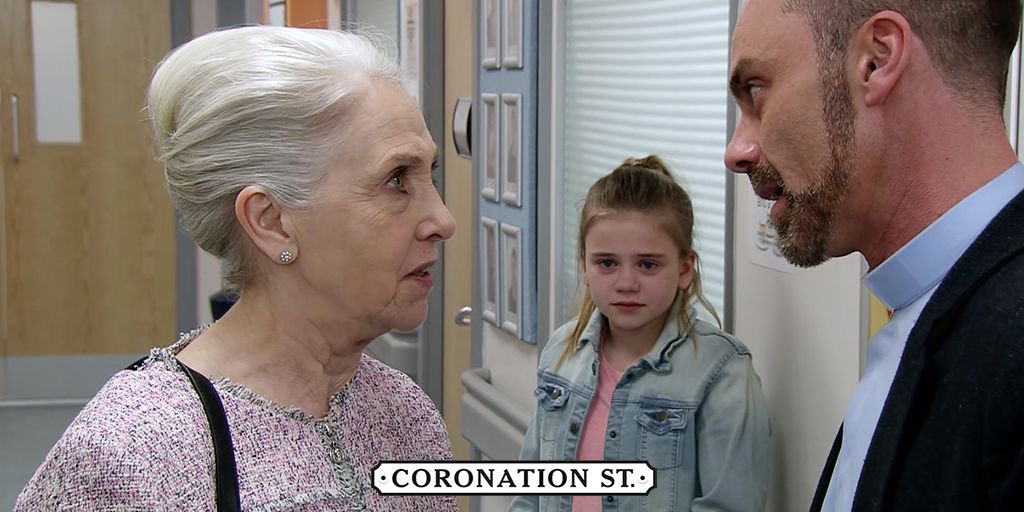 "What do you mean, my contract expires in December?!"
But before then, here's what you can expect this week in Weatherfield:
Anna Windass has been a thorn in Pat's side for years now, and she simply refuses to back down. Phelan (Connor McIntyre) is seething with Anna for trying to turn Seb (Harry Visinoni) against him and things reach boiling point in an intense showdown in the builder's yard office which sees Anna grab a blunt tool and attempt to strike out. Yikes.
We know that actress Debbie Rush has quit the soap after nine years, so will Anna's showdown with her nemesis prove to be fatal?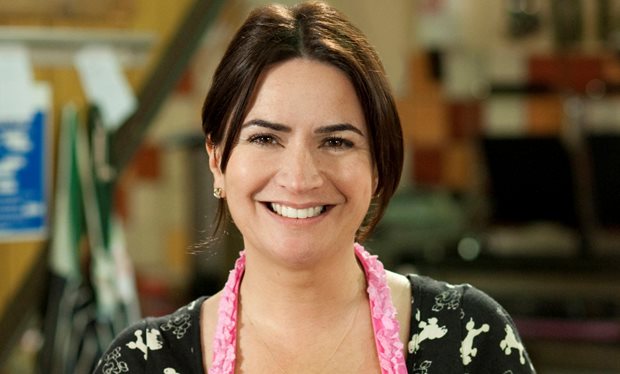 Rare photographic evidence of Anna smiling. [Picture: ITV]
Somebody else that's in the Phelan firing line is his old partner in crime Vinny (Ian Kelsey), who Phelan has discovered is returning to the area. Vinny fled the country months ago with the proceeds of their property scam.
We doubt that Pat will be welcoming his old pal with open arms. With his hostage Andy (Oliver Farnsworth) having been promised some company, could Vinny be the one about to get a new home in Phelan's cellar?!
Another person who falls foul of a pressurised Pat this week is his suspicious daughter Nicola (Nicola Thorp). When she quizzes him about his past, he lashes out and shouts at her to get out of his face. Charming! He'll have no allies left at this rate.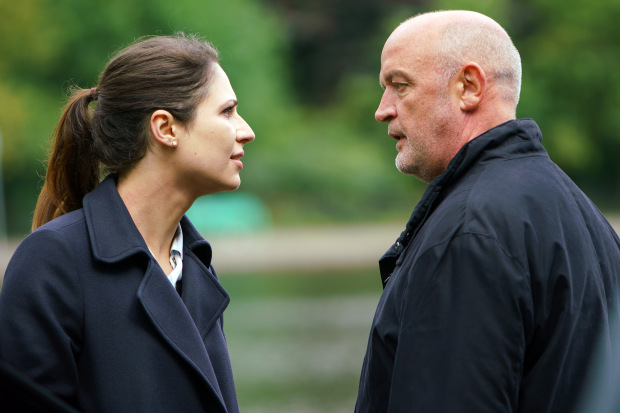 "I'm not too old for a ponytail, so there!" [Picture: ITV]
Other developments this week include window cleaner Seb having an accident, Phelan framing one of his enemies for attempted murder and somebody purchasing a gun. Blimey – it's a good job we have six episodes a week now to pack in all this drama.