Dancing On Ice Fans Cringe As Max Evans Dodges Holly Willoughby's Kiss!
22 January 2018, 11:19 | Updated: 22 January 2018, 11:58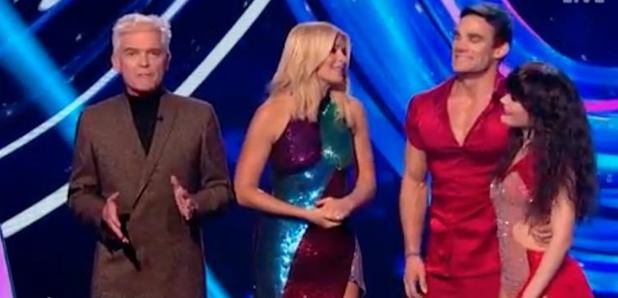 Watch the awkward moment when she goes in for a kiss and instantly regrets it...
We've all been there. That cringe moment when you're saying goodbye to someone, but you're not sure if it's a kiss or hug situation and find yourself hovering in a state of awkwardness.
Well last night Holly Willoughby and Max Evans had that moment, only this time it was on live TV.
Saying goodbye to Max following his performance, Holly reached in for a kiss, only to be snubbed as Max simply didn't realise she was there.
Then when he went in for a kiss, SHE wasn't there and he wound up kissing the air instead.
AMAZING.
To add salt to the wound, the awkward moment didn't go unnoticed and sent fans into meltdown.
One fan said: "Awkward dance, even more awkward kiss goodbye to Holly".
Another added: "Holly and Max demonstrating when a kiss can be awkward!"
Aside from the cringe kiss, fans couldn't stop tweeting about Holly's dress.
A number of fans were saying how much they loved it, with one tweeting: "Holly's dress is so beautiful".
Holly's dress is so beautiful #DancingOnIce

— mollie (@MollieWesthead) January 21, 2018
Loving Holly Willoughby's dress on tonight's Dancing on Ice!

— Mandy Price (@AmandaP97444672) January 21, 2018
Other's were less convinced however, with some comparing her to a Quality Street rapper.
Holly's dress made out of stitched together quality street wrappers by the look of it. #DancingOnIce

— TWJ (@IrnBruRevolutio) January 21, 2018
Really don't like Holly's dress. It's such a bad fit and she doesn't look comfy #DancingOnIce

— Hayley F (@magical2727) January 21, 2018
Tough crowd.