Bradley Walsh Breaks Down In Fits Of Giggles On The Chase Over Player's Pig Farming Past
27 July 2017, 08:10 | Updated: 27 July 2017, 08:12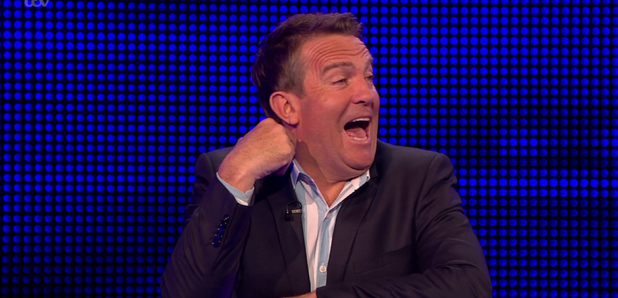 Contestant Kim, from Clacton-On-Sea, gave Bradley Walsh a run for his money when she explained her experience of being a pig farmer on The Chase.
We'd be lying if we said watching host Bradley Walsh break down in fits of giggles isn't one of the reasons that we watch The Chase. His laugh is so infectious and it's hilarious watching him try to keep it together.
And this week's episode didn't disappoint.

Kim on The Chase. Picture | ITV/The Chase
The 57-year-old TV presenter was left bent over double after a contestant told him about her life as a pig farmer in a hilarious exchange at the start of the show.
Contestant Kim, 52, from Clacton-On-Sea, explained to the host that she was a retired pig farmer.
Introducing her to the show, Bradley said: "Kim, welcome to the show.
"You're a retired pig farmer from Clacton-On-Sea?"
Kim corrected Bradley: "I am, but that was in Colchester."
She went on to reveal that she hadn't always been a farmer and had originally lived in Romford.
Bradley then joked: "Romford… known for its farmlands.
"What were you doing in Romford? Were you a market trader?"
It was then revealed that Kim had worked as a traffic warden while living in the Essex market town.
Shocked, Bradley bantered: "How on Earth do you get from being a traffic warden to being a pig farmer?
"How does that happen?"
Kim then replied: "Alright, my husband decided he wanted a smallholding. So he bought it."
Seizing the opportunity to make a cheeky innuendo, Bradley teased: "Your husband's got a smallholding?"
Ignoring his endearing wink, Kim carried on to explain: "No, he bought it for me but he didn't tell me that I'd be doing all the work.
"So the pigs, the smallholding and the husband have gone… because I wasn't going to do all the work.
"Got rid of the lot. Got myself a pushbike and moved to Clacton."
By this point, Bradley burst into a fit of hysterics, before adding: "Seriously? That is unbelievable! Good for you girl! Good for you."
What a woman!