Carol McGiffin Makes HUGE Dig At Co-Star Andrea After Wedding Snub!
13 December 2017, 12:51 | Updated: 13 December 2017, 15:21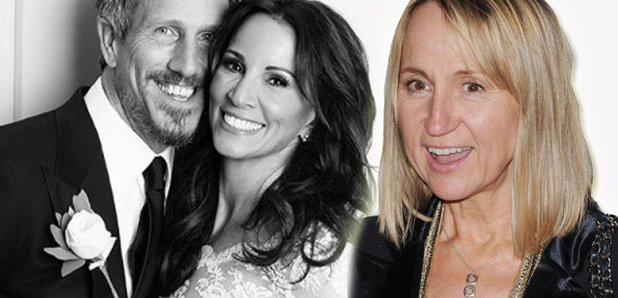 Carol was one of the only faces from the panel missing at Andrea's wedding and she doesn't seem happy about it.
Watching Loose Women is like spying in on an intimate conversation between close friends, so it's hard to imagine the girls on the panel not being best mates in real life.
However, it seems as though some panelists are closer than others as fans were quick to notice there were a few faces missing from the nuptials including Carol McGiffin and Katie Price.
Guest who were seen boozing away on the night included Nadia Sawalha, Kaye Adams, Linda Robson, Jane Moore, Saira Khan and even relative newbie Stacey Solomon - Carol was nowhere to be seen.
Now Carol has sent what has to be the most passive-aggressive congratulations to her colleague after Andrea tied the knot to her third husband in a lavish wedding last month.
Speaking out in her column in New! magazine, Carol wrote what appeared to be a not-so-subtle dig at Andrea for being excluded from the celebrations.
"I'm ecstatic for them both, even though I wasn't invited to the wedding...!" she wrote.
"She looked radiantly happy, as did he, so it's all good. What's not good, though, is that Andrea's managed to squeeze in two weddings in less time than I've been engaged to Mark, which is a bit embarrassing to say the least!"
OUCH!
We think we need a jacket because those comments are a bit cold.
The news comes after Andrea praised her partner Nick for fixing her broken heart as they tied the knot on the same day that they met, four years ago following a blind date.
She posted: 'The best day of our lives has begun. I'm so happy that from today Nick and I will be walking through life hand in hand, side by side.
"I didn't dare hope that I would find love again when all seemed lost, and the world felt dark and sad... but four years ago today I reluctantly went on a blind date and the man who would change my life forever kissed my cheek and whispered 'I'm so nervous' in my ear. 'So am I' I whispered back.
"In four years we have talked, listened, laughed and learned to love again. My broken heart is not only fixed, it is filled to bursting."
Andrea, who had been married twice before, also spoke about the difficulties of finding love later in life but insisted it was all worth it.
She added: "I have learned that love in middle age comes with so much more... the past isn't left behind, it travels with you, and teaches you what you don't want as much as what you do.
'It brings baggage, history and scars, but over time it becomes something stronger and more solid because of all of that. I dared to dream, and today my dreams are coming true.
'I love you @lordfeeney #weddingday #truelove #happilyeverafter #dreamsdocometrue'. "
Andrea's first marriage was to her teen sweetheart Nick Green in 2000 before divorcing him in 2005, after 17 years together and having a son.

She split from her second husband Steve Toms, a DIY specialist on UKTV show Our House, in 2011, they share a daughter.