Watch This Cheeky Tipping Point Fan Insult Bradley Walsh!
4 May 2017, 15:32 | Updated: 14 July 2017, 11:11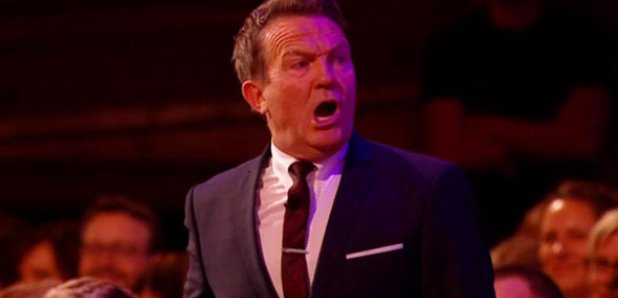 Bradley Walsh was left furious when a cheeky Tipping Point fan insulted him on Tonight at the London Palladium!
We all know and love Bradley Walsh from the ITV quiz show, The Chase.
But during his other presenting gig, Tonight at the London Palladium. he was left red faced by a cheeky Tipping Point fan!
For those who don't know, Tipping Point is a rival gameshow also on ITV and hosted by Ben Shephard.
During Tonight at the London Palladium , Bradley invited Newquay bowls players Jack and Ann onto the stage for the chance to win £1,000 for the entire bowls team.

But when they joined him, he discovered the pair were an item!
Bradley quipped "Good for you Jacky Boy" to which 84-year-old Jack wittily replied "I think you're pretty good," Jack said with a big grin. "I watch that Tipping Point every day."
The audience erupted with laughter and Bradley looked pretty red faced before jokingly pretending to walk off and saying to the audience "Anyone else want to win a grand?".
But all turned out well in the end when the couple answered three questions correctly and won the cash to take back to Cornwall with them!
Someone give Jack his own comedy show!