Eamonn Finds The Perfect Stand-In For Wife Ruth!
3 October 2017, 16:48 | Updated: 3 October 2017, 17:33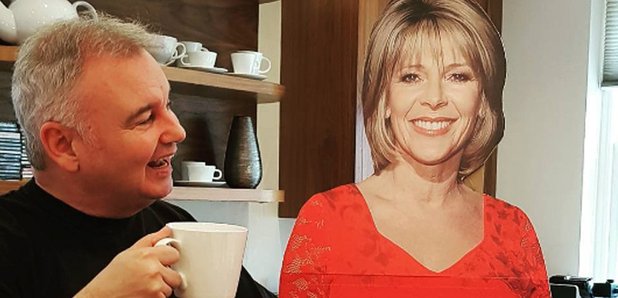 This may stop him getting lonely during her rehearsals.
We do love how husband and wife TV presenters Eamonn Holmes and Ruth Langsford don't take themselves too seriously.
Now Eamonn has taken this to another level while Ruth continues her training for Strictly Come Dancing. The cheeky Irishman has got himself a life size cardboard cut out likeness of his beloved.
The TV couple have been forced to spend some time apart as Ruth is busy learning her steps with professional dance partner Anton du Beke. We think Eamonn's solution is a stroke of genius.
The pair have joked about the 'Strictly curse' and vowed that it won't ruin their marriage. Eamonn posted up a picture of himself sat in the kitchen with his cardboard wife on Instagram, with the caption: 'Another week for the Real Ruth on #strictly …. but this one eases the loneliness and I have my memories.'
Ruth's dancing at the weekend wasn't exactly as stiff as cardboard, but Strictly judge Craig Revel Horwood did brand her Charleston "limp, lame and lacklustre," telling Ruth she needed to give it "80% more energy."
However, new head judge Shirley Ballas approvingly told Ruth "You nailed it!" In the end, Anton and Ruth did not have to appear in the Dreaded Dance Off, so all was well.
Ruth revealed before Saturday's live episode that she had to miss rehearsals due to a hamstring injury, which she was very proud of during Saturday's live show.
The Loose Women host said: 'Just before I went down I was in my dressing room, I said: "I'll just walk through my steps and I'll just familiarise myself and make sure I know the routine" and I kicked my leg out and I've pulled a hamstring.'
Hopefully, Ruth will remain injury-free for the rest of her Strictly experience. But maybe Eamonn's cardboard cut-out could go on a substitute if the worst happens?