Tense Moment Kim Woodburn Erupts At Philip Schofield Inspires Funny Memes
Kim Woodburn Lashes Out at Phillip Over Her CBB Behaviour | This Morning
06:25
Cheeky viewers have found the comedy in the controversial CBB housemate's rant on 'This Morning'.
She may have ruffled a few feathers during her stint in the Celebrity Big Brother house, but it seems as though Kim Woodburn is winning favour with fans on the internet who have found amusement in her bizarre behaviour.
The fiery 54-year-old, has never been one to mince her words, and found herself riled up during an appearance on This Morning, where she erupted at presenter Philip Schofield.
Now the tense moment has been captured with a series of hilarious memes, from viewers at home who just couldn't get enough of awkward interview.
This was the whole UKs reaction when watching @Schofe & @hollywills interview @KimWoodburn4 on @thismorning @Goggleboxbros #thismorning pic.twitter.com/n6YvYRDd69

— Zach Bruce (@Zach_bruce) 7 February 2017
While others mocked Kim's ability to start an argument over anything.
My favourite Kim Woodburn meme! Me and my mates have been sending them to each other all day pic.twitter.com/ukST7PqW5x

— James Arnott (@JamesLArnott) 19 January 2017
I CAN'T COPE ANYMORE
@Rylan #CBBBOTS #cbb #kimwoodburn #meme #lol #jokes #funny #bigbrother pic.twitter.com/ssY3UKcQKa

— Calum Knight (@CalumKnight2014) 19 January 2017
The argument between Phil and Kim began when he grilled about the aggressive behaviour she displayed towards her Celebrity Big Brother housemates.
She snapped: "You see Philip, you were not in there. I know what I went through. I went through hell. You weren't in there so you won't know, will you? I went through hell on earth. I was told [by the other housemates] to get back cleaning, which is disgraceful."
Schofield then hit back defending the other housemates by saying "Well, you said worse" which riled the Queen of Clean even more.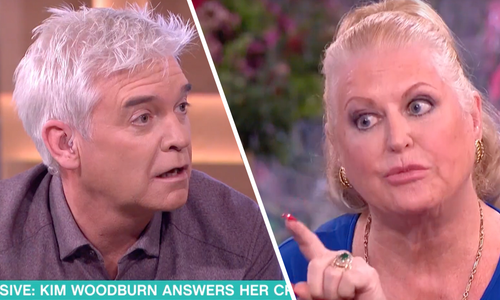 Phil's co-host Holly Willoughby innocently asked her if she found the experience so "hellish" why she didn't leave.
She explained: "Why should I leave? Why should I lose a massive sum of money for those bums. Would you lose a shed load money enough to buy a house that gets you out in three days? Not on your Nellie. It's nothing to do with you Philip, what are they paying you? Don't be cheeky!"
"I'm employed by Channel 5. I said to Channel 5 if you put me in there, I never look for trouble. I do not look for trouble, Phil. If you bring it to me, I'll crucify you. Don't bring it to me. I am a very polite lady. "
Kim then rounded off the conversation by calling Phil "a big phoney!"