Lorraine Kelly Strips Off Before Plunging Into FREEZING Antarctic Waters
27 February 2017, 15:59 | Updated: 14 July 2017, 11:11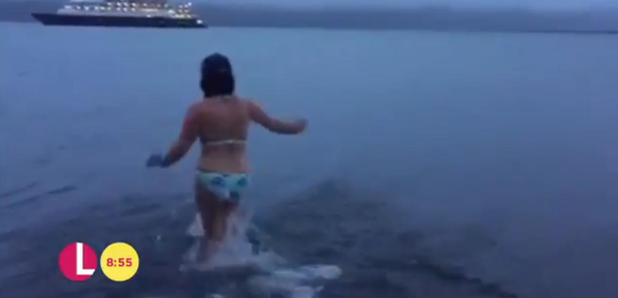 Lorraine Kelly is away in Antartica celebrating her 25th wedding anniversary. She's been sending Christine Bleakley updates on of her trip.
What is this madness you may be asking. It's making us shiver just thinking about it.
Lorraine Kelly is away on holiday this week as she celebrates her 25th wedding anniversary with her husband Steve Smith and has left her eponymous daytime TV show in the very capable hands of Christine Bleakley.
But during her break, she's been sending Christine short video updates of what she's been getting up to and today she put on a brave display of stripping down to her bikini to take a dip in -29°C Antarctic Waters.
No she didn't, oh yes she did! Watch the moment @reallorraine plunged into icy Antarctic waters wearing her bikini! Bravo!! pic.twitter.com/K6jOjhrTkP

— Lorraine on ITV (@ITVLorraine) 27 February 2017
The 57-year-old TV presenter appeared on camera in a fur hat and oversized outdoor coat.
"This is a first for me, this is Antarctica," she said, turning around to look at the sea. "And I'm going in."
Stripping off her red jacket, Lorraine revealed a floral bikini and - still wearing her hat and gloves - she plunged into the subzero waters.
Utter madness, Lorraine!
Instead of being put off by the freezing conditions, Lorraine can be heard LAUGHING! Crazy lady.
Clearly impressed by the stunt, Christine said: "Cheeky Lorraine, well done!"