Rachel Riley Left Red-Faced After Strictly Beau Pasha Spells Out Filthy Word On Countdown!
8 March 2017, 11:05 | Updated: 14 July 2017, 11:11
Rachel Riley blushes as Strictly boyfriend Pasha Kovalev spells out rude word on Countdown
01:29
When Strictly Come Dancing's Pasha Kovalev made a guest appearance on Countdown, Rachel Riley didn't expect that he'd make her spell out this naughty word on telly.
Talk about embarrassing your other half at work!
When Rachel Riley's boyfriend Strictly's Pasha Kovalev made a guest appearance on the daytime TV show Countdown, neither of them expected that he'd make her spell out the word 'phallus'.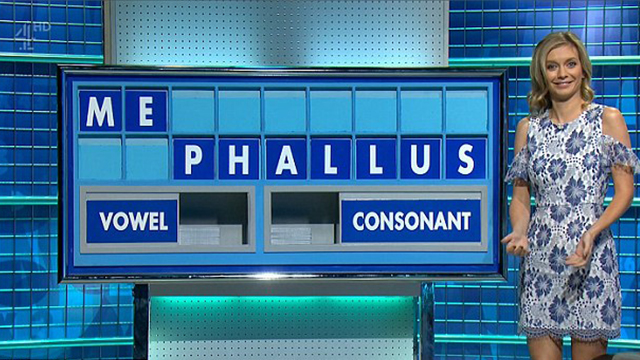 Picture | Channel 4
Pasha made an appearance on the daytime show as the guest lexicographer in dictionary corner when he rearranged the nine-letter jumble MEPHALSUL for the winning, point scoring word.
Rachel, an Oxford graduate, is the brains behind the maths segment of the show but also presents the words on the board during the letters segment.
210pm today @PashaKovalev is back in @C4Countdown #DictionaryCorner with @susie_dent & of course @Nick_Hewer & @RachelRileyRR #playthegame pic.twitter.com/c6LfpbgSvw

— Countdown (@C4Countdown) March 8, 2017
She's used to spelling out risqué innuendos on the board and shooting down rude jokes on the late night version of the show but not on the squeaky clean daytime version.
And even worse when the cheeky word comes from your boyfriend... on telly!